BY LINDA BENTLEY | JUNE 9, 2010
Thousands brave blistering heat to support the rule of law
Phoenix Rising rally drew people from across the country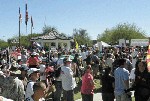 PHOENIX – The heat was brutal in downtown Phoenix on Saturday, but that didn't keep a couple of thousand citizens from all over the country, including people from as far away as New Jersey, from attending the Phoenix Rising rally at Wesley Bolin Park to show their support for Arizona, passage of Senate Bill 1070 and the rule of law. More ...
BY LINDA BENTLEY | JUNE 9, 2010
Land uses modified with Prop 207 in mind
EPAís proposed emissions controls could increase cost of CAP water by 200 to 400 percent with no perceptive

CAVE CREEK – Monday night's council meeting began by pulling items from the consent agenda, which included staff's request to continue three items for deeds of gift to the town for dedicated rights-of-way by the Bullington family, and, by advice of legal counsel, a lot line adjustment of the town's right-of-way boundary and acceptance of the same area as an easement, for Gabe Royer that would "resolve an issue of building non-compliance for the barn that was built on the property by the previous owner without a building permit."
More...
BY PEGGY DYER BROCK | JUNE 9, 2010
A gathering to celebrate the life
of a hero
Tony Nelssen remembered at WestWorld
There's a huge hole in the hearts of horsefolk in our readership area, many of whom attended Tuesday's Memorial Service in the Equidome at WestWorld for a man huge in stature and spirit, Tony Nelssen. More ...
BY LINDA BENTLEY | JUNE 9, 2010
U.S. Supreme Court blocks matching funds provision of Clean Elections
WASHINGTON – On Tuesday, June 8, 2010, the U.S. Supreme Court issued an order blocking the distribution of matching funds under Arizona's Clean Elections Act.
More...
JUNE 9, 2010
Majestic in blue

This crane recently appeared out of nowhere and spent about half an hour enjoying the evening sunset in Carefree.

Photo by Lucas McQuiston

JUNE 9, 2010
Obituary