JUNE 2, 2010
'Enchanted Collection' at Cooper's of Carefree



CAREFREE – Driving out Scottsdale Road toward Carefree, the sculpted hills of the Tonto National Forest come into view. Very quickly, I feel I'm in a different place. I'm away from it all. I turn right at the Shell station on Cave Creek Road, and a few short blocks later the Cooper's sign catches my eye. As I walk through the doors of Cooper's Art Gallery & Brokerage, I very quickly feel that I'm in a different kind of art gallery. And I am. Wow!

In a former bank building located on the Sundial, the Cooper's collection gracefully consumes 5,000 square feet of space; making it one of the largest galleries in the Valley. Cooper's is owned and managed by Patricia Cooper Wesley and her husband, Chuck.

As you enter the gallery, you are very likely to be greeted, as I was, by Abby … Cooper's mascot. Once the "meet and greet" is complete, I notice the warm and welcoming seating area surrounded by large forged-steel, cantera stone and bronze sculptures. And then, as my eyes begin to pan the gallery, walls of color come into focus. Let the tour begin!

The gallery is organized into a dozen venues. Each venue is shared by the works of two or three artists. Cooper's has taken the time to compile a concise one-page biography for each artist, highlighting the artists' credentials. So as I enjoy the art, I'm also learning something about the artist and his or her accomplishments. The awards they've won. The magazines which have featured their work. The museum collections they are in. In fact, the gallery does very much have a "museum" feel to it. I'm listening to the flute and guitar background music by Ronald Roybal and a feeling of enchantment has come over me. Hey, this is intoxicating.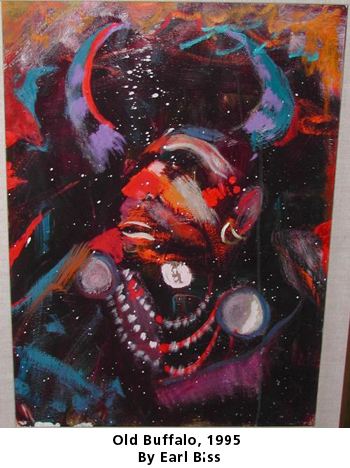 Most of what you'll see at Cooper's is commonly referred to as Southwest Contemporary Art. Most of the art has been placed with Cooper's by the artists. But there is a growing collection of secondary market (resale) pieces, as well. I've just walked into the vault, and I see secondary market pieces by popular artists such as J.D. Challenger, Fritz Scholder, Tony Abeyta, C.J. Wells, Frank Howell, Earl Biss, Francisco Zuniga and David Siqueiros.
I've just stopped by a large painting of Dog Soldiers by Yellowman. Stunning. I'm reading Yellowman's one-page biography and it contains a synopsis of the Dog Soldier story. Now I'm beginning to understand why there is so much feeling and energy in this type of art. It's based in deep tradition and culture. It's a beautiful painting, for sure. But the context just makes it so much more powerful.

Patricia has just welcomed some new customers and they ask "What is the difference between an art brokerage and an art gallery?" And Patricia replies, "Well, galleries typically represent the artists themselves. We represent over twenty artists. But we also accept works of art for resale from individuals. That's what an art brokerage does. So, we are both a gallery and a brokerage."

Here's a smaller painting, beautifully framed, by Robert Taylor. It has a spiritual feeling to it. But it's the intensity of the symbolism in the painting that's impressive. Some might call it "scary". It's titled "Crucifixion".

If you are a Francisco Franklin fan, you'll love what you find here. Cooper's has provided an entire venue for Francisco's "folksy" paintings. "Angelita, Angelita" is a large colorful painting of an angel. Same for "Mis Palomitas." Francisco's work is new to me. But I am quickly becoming a fan.

Now I'm looking at a collection of paintings by Kevin Red Star. Kevin was one of the first graduates of the Institute of American Indian Arts and was a contemporary of the late Earl Biss. The large painting in front of me is called "Big Bad Wolf". Like most Native American art, it's colorful; but this piece is also amazingly elegant. And it draws you in. "Many of our artists are graduates of the IAIA." Chuck informs me. "Kevin is one of several artists in our collection whose works are exhibited in the Smithsonian."

Cooper's is intent on "moving art". Chuck is with a customer and I hear him say "If you see a piece you're particularly interested in, we may be able to work with you on the price." As I walk the gallery, I see price reductions on many of the tags. "Our mission is to sell museum-quality art at affordable prices. We price art to sell. Our customers want to buy a quality piece of art at a good price. Protecting high prices for collectors is not a priority of ours. We are not here to store art. We're here to move it," says Patricia.

Patricia's background is in Art History, Studio Art and Anthropology. Prior to Cooper's, she managed an online gallery to support emerging artists. Melissa Melero, who is now in Cooper's, was in Pat's online gallery. "Melissa was running low on funds and we were able to sell one of her pieces to a local attorney. She used the funds from that sale to purchase the supplies used to create paintings for the next Indian Market. She won First Place in category at the Market for one of those paintings and almost completely sold out at the show."

I have just come face-to-face with a fabulous, life-size, hand-forged iron sculpture. The detail is impressive. Jerry Harris is the artist. Looking around, I see that the gallery is spacious enough to comfortably hold five other large sculptures by Jerry.

As I complete my tour of Cooper's, I find myself overwhelmed. I've just spent more time in one gallery than I've spent at most "tent" shows. Frankly, I wish I had more time. But Cooper's is well worth the drive. I'll be back. Abby has just completed another "meet and greet". It's been a busy day for her and she's now settling down on her bed for a nap. Before I leave, I take one look back and reflect on what I have just experienced. "Enchanting" comes to mind.

Contact Information:
11 Sundial Circle, Carefree, AZ 85262-3258
480-575-6742
www.CoopersArtBrokerage.com
Pat@CoopersArtBrokerage.com