BY LINDA BENTLEY | MAY 26, 2010
Obama, Sovern, trustees of Columbia University found guilty
ATLAH court issues guilty verdicts on all 17 counts of sedition, conspiracy, fraud and obstruction of justice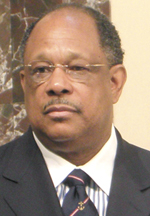 ATLAH, N.Y. – Last week's article, "The People v. Columbia and Obama trial convenes in Harlem church," detailed the bullet points of my testimony, under oath on May 15, regarding Barack Hussein Obama's fraudulent Selective Service System registration, which also inexplicably ties him to a Connecticut Social Security Number, in the 10th Amendment trial held by Pastor James David Manning in his ATLAH World Missionary Church in Harlem.
More ...
BY LINDA BENTLEY | MAY 26, 2010
CCUSD's 'great needs' exacerbated by poor fiscal stewardship
'Our students need all of the above and as we know, they are our future'

CCUSD – While Cave Creek Unified School District heartily supported Prop. 100, which passed by a large margin on May 18 and will raise Arizona's sales tax by one cent for the next three years to contribute to education, health care and public safety spending, Superintendent Debbi Burdick posted her May 2010 "vodcast" (video podcast) CCUSD's website indicating the district is not finished asking for yet more money.
More ...

BY LINDA BENTLEY | MAY 26, 2010
Local residents complain about metal utility poles
APS upgrading lines to correct 'significant voltage drops and flicker'

CAVE CREEK – Last week, a group of residents along Continental Trail, Fleming Springs, Lone Mountain North, Rockaway Hills and Echo Canyon roads noticed metal utility poles had been delivered to replace existing wooden poles.
More...