MAY 26, 2010
CCUSD Visual Arts Teachers and Sonoran Arts League presented the 22nd Annual Celebration of the Arts
CCUSD – Visual Arts teachers and SAL presented the 22nd Annual Celebration of the Arts on April 1 at the Cactus Shadows Fine Arts Center.

Each art teacher from the eight CCUSD schools chose 10 of their students to receive an outstanding art student award. Carli Hansell and Rachel Manak were two of Ms. Marcia Lang's students who were chosen from Cactus Shadows High School.

Carli is a sophomore and the daughter of Dave and Carla Hansell of Scottsdale. Rachel is a junior and the daughter of Charles and Norma Manak of Carefree.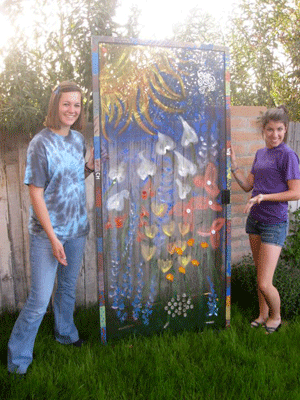 Pictured are Carli (left) and Rachel (right) with an art project they created out of recycled materials. They used a screen door, painted flowers on it, attached bottle caps, water bottle tops, aluminum foil coils, and artificial flowers for a 3-D effect.

Sonoran Arts League is a major force in the Visual Arts. Through their Youth Art program, Sonoran Arts League annually brings artists into CCUSD classrooms, grants scholarships, hosts a yearly tour of a major area art museum, and fills the Art Incentive Bags. Ten students chosen from each CCUSD Visual Arts Teacher are given a bag full or art books and supplies. The top student from each middle and high school is given a $25 certificate, and elementary students a $20 certificate good at the Sonoran Arts League Art Stuff Sale.