BY PETE MOHR | MAY 26, 2010
Cactus Shadows Class of 2010 jubilantly graduates 366!
PHOENIX – I'd wager that as they tossed their caps ceiling-ward on Thursday evening, May 20, the 366 just-graduated members of the Class of 2010 weren't too focused that they'd been the stars of Cactus Shadows' 25th commencement ceremonies. Families and fan clubs present whooped, hollered, blew air horns and made other joyful noises as "their" graduates were individually announced, showed on two big video screens, and crossed the stage from two sides to receive diplomas (and congratulations) from CCUSD's Governing Board. You needed not tell CSHS '10 that they would graduate high school only once!

After an always-stirring performance of our National Anthem by Music Director Gary Wycoff's Honors Choir, Principal Steve Bebee, in his first commencement address, praised the Class of 2010 as "a unique and special group," predicting, "You will achieve your dreams because you believe in yourselves." Earlier, Principal Bebee had especially complimented the '10ers "for taking time to take care of others."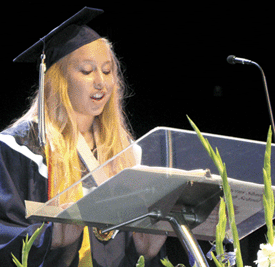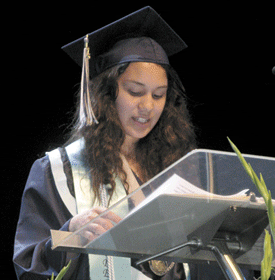 Salutatorian Kelsey Janke traced her own progress from a "frightened freshman to a savvy senior!" She acknowledged, "Our experiences at Cactus Shadows have shaped us: now we have new dreams to fulfill."

Student Body President Emily Alvarez, recalling how "alone" she felt as a freshman, challenged her classmates "to find the courage to stand alone again." Lightheartedly, she closed, "So swim on little fishes and conquer even bigger ponds!"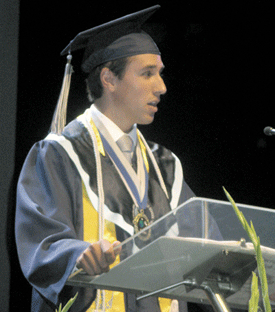 Valedictorian Alex Lazo began his Honor Address by appropriately paying tribute to four retiring teachers: Mesdames Linda Garvin (Performing Arts), Kelly Henson (Language
Arts), Mindi Kugler (Mentor Teacher), and Maureen Pape (Mathematics). He then amused his classmates with personalized remembrances before opining, "The greatest dividends
are paid to those who take the greatest risks; so get down in your power stance and face the world!"
CCUSD Superintendent Dr. Debbi Burdick capped off the speaking by urging the graduates "to make passion a part of everything you do … everything you believe in."
All in all, a wonderfully-upbeat evening – as a high school graduation should be. Why, the Class of 2010 made me feel younger than my driver's license 73!