Everyday heroes
May 19, 2010
CAVE CREEK –Ciara Petronzio is a 12-year-old Desert Arroyo Middle School student who runs her own non-profit charity called Pennies For Pups.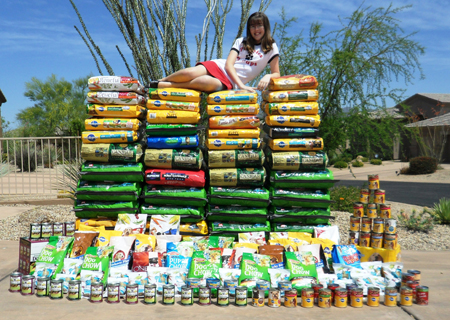 According to Ciara, she had a "Four Legged Food Drive" in April that was a huge success! She had donations from all around the valley but many from Scottsdale and Cave Creek.

She would like to personally thank everyone who contributed to the 1st Annual Pennies For Pups Four Legged Food Drive. Because of their generosity, Pennies For Pups was able to raise over 3,000 pounds of dog and cat food to distribute to four no kill shelters in the Phoenix area.

That's 6,000 meals that will be provided to sheltered dogs and cats!!!

Ciara grew up with a golden retriever named Dakota, the love of her life. When Dakota passed on Ciara lost her only "sibling." While Ciara waited for her parents to prepare for another dog she volunteered at a local golden retriever rescue, Rescue a Golden, of Arizona. It wasn't long before Ciara found herself wanting to do even more.

Ciara's solution was to start an organization called Pennies for Pups. In the beginning she donated exclusively to Rescue a Golden. She is branching out and donating to other rescues.

Please visit Ciara's new website at www.penniesforpups.com and see the attached picture with the results.

On behalf of all of us at Pennies For Pups and our furry friends, we thank you for your support.