My View
By Don Sorchych | May 19, 2010
• Hammerhead today
• SB 1070

The former Roadhouse and Hammerhead Jack's across the road from Harold's Cave Creek Corral was in escrow with a bank owner and is now owned by Jim and Lisa O'Toole. Bill Vale, the majority owner of Harold's, is rumored to be a possible managing partner.

In a possibly connected application, T.C. Thorstenson again filed for a change from residential to commercial zoning of his next door property, the former Julie Terry property. Thorstenson discussed the application with the planning group while in the company of Councilman Adam Trenk. Trenk was admonished by the town manager, since he will vote on the possible rezoning. He apologized only to call the planning department later to check on the progress of Thorstenson's application.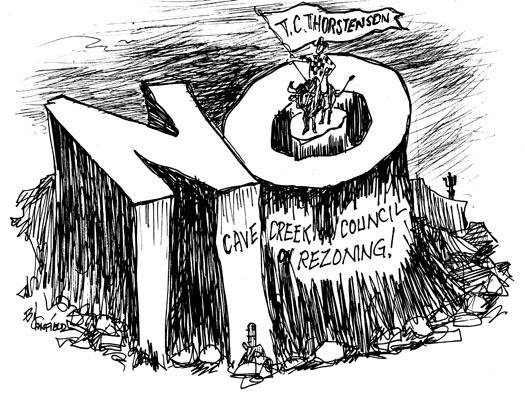 The Terry property has a spotty past. She rented the home on the property to hordes of illegal aliens. She invited illegal dumping of construction material to delay erosion from the adjoining wash.

She was strongly supported by Councilmen Gilbert Lopez, Ralph Mozilo and Jerry Whitmore who even went door to door to garner public support. The zoning change was approved by council but a subsequent referendum overturned the council's decision.

Then David Lewis tried for commercial zoning and lost in a council vote.

T.C. Thorstenson then rode into town on the back of his buffalo, fresh from selling his ranch properties in Scottsdale, and allegedly with proceeds from the family of his wife who drowned in Bartlett Lake.

Thorstenson purchased several properties, both residential and commercial, possibly to defer taxes. He owns commercial property next to the granite yard, which he cleared absent town approval. He has recently made the property available to school protestors, the Hideaway and the recent movie, filmed at the Buffalo Chip and other places in town.

He purchased the Terry property, which is residential, and submitted an application to the town to convert it to commercial, even though he already had commercial property across Cave Creek Road.

Although council turned him down he later was offered the western arena project he wanted if he would sign a development agreement assuring he would develop as planned. He refused, leading some to believe he planned to flip it at commercial rates since he had purchased it at residential prices.

One theory is that the combination of the Hammerhead Jack's property and Thorstenson's property could emulate the highly successful bull riding at the Buffalo Chip Saloon. Reports of Thorstenson's braggadocio claims exactly that.

But if there is any truth to Thorstenson's dreams they are a long way from reality. Since Vermeersch Road would not be acceptable for access to the Thorstenson property, offering access from Cave Creek Road would be a boon to the plan. Possible? Who knows.

The town gauntlet must be run for his application. The application, for a general plan amendment and a rezoning must be presented to the Planning Commission. Although that is only a recommendation to council their votes are certainly considered in council determinations.

Then the rezoning must be voted on by council. A current nose count says Thorstenson loses.

It is a foregone conclusion council freshman Adam Trenk counts the applicant as one of his few supporters and Trenk has supported the zoning conversion since time one. In any case, since he involved himself in Thorstenson's application, he should recuse himself and leave the room when the council deliberates the application.

Ralph Mozilo has supported the conversion in the past, believing the location should be commercial. However, given the public vote to deny at referendum and recent no vote for David Lewis he may vote no.

I think both Steve LaMar and Jim Bruce will vote no. Their votes and Mayor Vincent Francia's almost sure no vote would deny the application.

Ever the maverick, Vice-Mayor Ernie Bunch is for the rezoning and Councilman Dick Esser is unpredictable and mischievous. So if Mazilo votes yes, Esser would be the swing vote.

The result is unpredictable, but weighted towards a no.

What isn't unpredictable is, if council approves, there will be a referendum. I believe the public would, and should turn down the rezoning. Thorstenson bought residential property, knew the history, and now seeks a ten to one gain on his investment.

Thorstenson was offered a special use permit with current zoning, which he delined. This is more support for the belief he plans to flip.

Before the O'Toole purchase, Vale attempted to buy Hammerheads. Vale had explored many alternatives, ranging from a Harold's look-alike to something totally different.

Vale and his then partner expanded Harold's dramatically after they purchased controlling interest. What evolved was a strategy which involved support of their existing customer base, but also frequent event- driven programs with a revolving group of non-profits sharing revenue at some unknown percentage.

Calls to Vale were not returned, so we will report about the new business when information emerges.
SB 1070
Anyone in Arizona that thinks beyond their nose should be proud of the actions of the legislature and governor for passing SB 1070. As you can see in the daily media they are playing up the illegal aliens; those poor downtrodden illegals.

I don't know what we spend on the creatures that illegally cross our border, but some believe it is billions and if that is true we are at the front end of financial recovery.

Most of the flak is coming from people like Attorney General Eric Holder who admits he hasn't read SB 1070. Truth will out eventually and already other states are considering following our lead. How satisfying is that?

Nationwide polls show a majority of citizens approve of what we did, and 70 percent of Arizonans agree with the legislative actions.

To add to that splendid result Arizona Superintendent Tom Horne endorsed a bill which will shut down Raza (the race) Studies in our schools. Students in Tucson area schools were being taught history which was largely bogus and pro-Mexican. What tax payer supported school should teach such garbage to young susceptible minds? None, of course, and the racist organizations are making all kinds of threats, but at the end of the day, they will lose and their sedition attempts will be history.

It is nice to be proud of what our state does but we wouldn't have these great results without the persistence and patriotism of Sen. Russell Pearce, R-Mesa. He is a man to whom we owe a debt of gratitude.

Write him at RPearce@Azleg.gov. He is deserving of accolades from people in this state and beyond.