Sprinters senior Geoff Byers, soph Jenny Gormley pace track to 11th (Boys) and 13th (Girls) at State
By Pete Mohr | May 19, 2010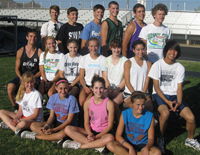 Gormley's new CSHS record in 200m becomes 6th mark to fall in 2010 season
MESA – "If you can't run with the 'Big Dogs', stay on the porch!" Well, as you can see from the accompanying photos (and scoring results), the Track Falcons – Boys and Girls – did anything but "stay on the porch!" Guys and Gals finished 11th and 13th, respectively; and looking to the future, they can take pride in the six CSHS records set this season.
More...

Ma-ri-ah, inexperience deny Softballís upset bid at tradition-rich,
#6-seed Canyon del Oro
By Pete Mohr | May 19, 2010
"Ma-ri-ah! Ö Ma-ri-ah! They call the wind Ma-ri-ah!" from the Broadway musical "Paint Your Wagon."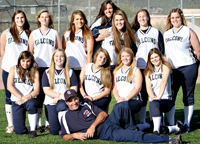 ORO VALLEY –Thanks to the proactivity of Athletic Director Mark Huston at the start of the 2010 season, the first permanent outfield fencing was installed at Lady Falcons Field. At Canyon del Oro (CDO), the outfield fence is adorned from foul pole to foul pole with 27 banners (I counted 'em) honoring Lady Dorados who have graduated to Division I softball programs. More...