Animal Health Services donates clipped pet hair to a Gulf oil spill clean-up organization
By Melanie Haber | May 12, 2010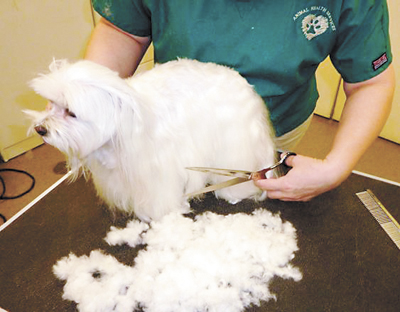 CAVE CREEK – Recently Animal Health Services stepped up to join organizations in aiding the clean up of the oil spill in the Gulf by donating pet hair clippings.

Why hair? You shampoo your hair because it collects oil. That means it can collect petroleum oil spills too. With the client's permission, their pet's clipped hair is carefully gathered, bagged and boxed and sent to one of several warehouses set up by oil spill clean up organizations to be reused. Since over 300,000 pounds of human and pet hair is cut each day in the US, it is a smart, safe and natural way to recycle hair for a good cause.

Through an organization called MatterofTrust.org, hair, fur clippings and nylons are donated to make oil spill booms. The booms are created by making a mesh of the hair and turning them into large floating barriers that round up oil and lift the oil off of the water. Booms are being made all along the Gulf coast near beaches and marshes to help soak up the unwanted oil that is so ruthlessly spilling into the Gulf daily.

But the Gulf incident isn't the only oil spill. Here are a few stats provided by MatterofTrust.org from the EPA and Smithsonian Institute:

• 2,600 is the average number of oil spills each year.

• Over 363 million gallons of motor oil are washed into the oceans each year.

• Fifty percent of the oil in our waterways is from households illegally dumping used motor oil.

• One quart of oil can contaminate one million gallons of drinking water.
While going green by using paperless medical records, digital radiography, digital reminders system and soon texting reminders, Animal Health Services has found this is yet another way to help our environment.

To see a video about this program, please visit www.ahsvet.com.
Melanie Haber has been working in veterinary hospitals for over 16 years in practice management, marketing, client relations and technical depts. She has been with Animal Health Services since 2008. Melanie Haber graduated summa cum laude with a degree in Business Administration and Mgmt with a focus in marketing with applications in the veterinary industry.