Free and fun! Youth programs keep kids cool this summer at Desert Foothills Library
May 12, 2010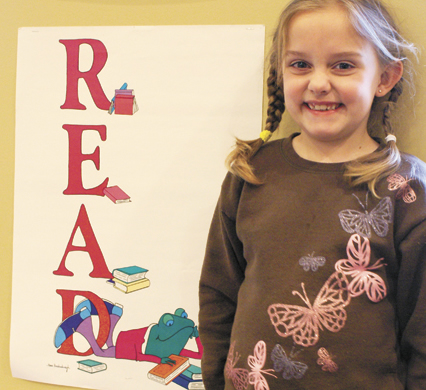 CAVE CREEK – The Desert Foothills Library is the only cool place for kids to be this summer with free, fun and stimulating programs for children of all ages, from newborns to young adults.

Located at 38443 N. School House Road in Cave Creek and open to all area kids, the library offers programs ranging from a free summer reading program to library visits from the World Wildlife Zoo, Phoenix Zoo, and much more.

The library is open every day. All programs are open to the public. Pre-registration is suggested by calling the library at 480-488-2286. For a complete schedule of youth programs visit www.DFLA.org.

• Mon., May 17-Sun., July 18
Summer Reading Program (All Ages)
Organized and coordinated with the Maricopa County Library District and the library, this summer-long program motivates children and teens to read for fun and track their reading online to earn prizes.

• Tue., May 25, 11 a.m. - 12 noon
World Wildlife Zoo – Wonders of the Water (All Ages)
Experts will talk about animals that live in freshwater and salt water. They will be bringing an alligator, turtle, duck, snake, marine toad, salamander or other aquatic or semi aquatic animals.

• Tue., June 1, 10:30-11:30 a.m.
Great Arizona Puppet Theatre Hotel Saguaro (All Ages)
Saguaro Hotel educates children and adults of the many animals that depend upon the giant saguaro for survival.

• Mon., June 7, 2-4 p.m.
Red Rohall Silk Screening (Ages 11-18)
Create a custom-made t-shirt using the print making technique of silk screening with professional instructor Red Rohall. Limited to 30 participants. RSVP highly recommended.

• Sat., June 26, 11 a.m.-12 noon
Wildman Phil and his Animal Friends (All Ages)
Experience an exciting live animal demonstration featuring some of the deserts most notable creatures. Naturalist and humorist "Wildlife Phil" highlights the unique ways the lives of these vastly different animals are interwoven, creating a community where each has a purpose and place. This presentation features hands-on demonstrations with valuable lessons.

• Wed, June 30, 2-3 p.m.
Author J.S. Lewis Special Appearance and Workshop (Ages 7-older)
J.S. Lewis is the co-author of the popular Grey Griffins series has sold nearly 1 million books, but it's his passion for helping young people that has driven him to speak at over 100,000 elementary and junior high schools students coast to coast. Armed with humor, an expansive collection of art based on his stories, and a unique ability to connect with young people, Lewis hooks the audience right away and never let's go as he shares his love of not only reading, but tapping into your creative side to make not only your stories come to life, but your assignments as well. This presentation is prefect for reluctant readers who battle to make reading and writing relevant to a world dominated by technology. Raffles will be conducted during program.

• Sat., July 10, 11 a.m.-12 noon
Phoenix Zoo; Animal Showcase (All Ages)
Inspiring people to live in ways that promote the well-being of the natural world is part of the Phoenix Zoo's mission statement. This interactive program offers water-related animals as an educational aspect for children of all ages.

• Wed, July 21, 11 a.m.-12 noon
McDonald's very own Ronald McDonald (All Ages)
The final program of the summer, the one and only Ronald McDonald is coming up to the Library to visit with children and provide fun-filled entertainment as only Ronald can.