Ridgecrest Healthcare offers rehab to people, renovation to building
By Marielle D. Marne | April 28, 2010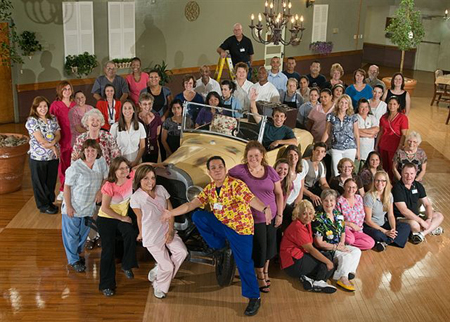 "Ridgecrest Healthcare is a unique property," executive director, Holly Gibson explained. It's a 200 bed, conveniently located facility offering various degree of care. One side of the building caters to behavioral and dementia patients. The other houses 50 beds for long-term basic care as well as short-term, post-acute care patients. Each unit is separate from the others. While the majority of residents are seniors, Gibson said services are offered to adults of all ages. Younger patients may be those in accidents or who have had operations but aren't quite ready to live on their own. These stays may be anywhere from one to six weeks and may involve physical and/or occupational therapy. "You get help before you go home."

Ridgecrest Healthcare's building was constructed in 1985. As such, it's undergoing a major renovation. "It's very exciting," Gibson remarked. Completion is slated for October. Updates include carpet and paint along with adding a spa, replacing old furniture, modernizing equipment in the therapy gym and going greener with better and more efficient lighting.

Consider Ridgecrest Healthcare for both long and short-term needs. Often, people come in for respite care so that their caregiver may have a break. The post-acute rooms are private and comfortable. The three meals and three snacks daily are tasty with a hearty variety.

See www.ridgecresthc.com or call 602-482-6671 for further information.