Armed robber hits National Bank of Arizona
By Linda Bentley | April 28, 2010

CAREFREE – Maricopa County Sheriff's deputies responded to a robbery call at the National Bank of Arizona located at 7202 E. Carefree Drive at 9:30 a.m. on Tuesday, subsequently turning the case over to the FBI Bank Robbery Task Force. More ...
Return of the Fluffy Bunny Crew?
By Linda Bentley | April 28, 2010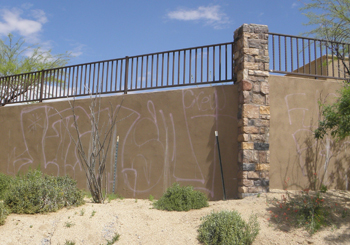 Graffiti on a Rancho Madera community wall on Basin Road appears to be the work of the Fluffy Bunny Crew, an organized street gang, 25 members of which were indicted last December during "Operation Triple Threat" by the Department of Public Safety GIITEM (Gang and Immigration Intelligence Team Enforcement Mission) task force on charges of burglary, armed robbery, kidnapping, criminal damage, endangerment, aggravated assault, illegally conducting a criminal enterprise, assisting a criminal street gang, trafficking in stolen property and riot. Triple Threat began as a multi-jurisdictional investigation of "party crews" that emerged from three local high schools, including Cactus Shadows.
Cave Creek staff seeking direction and consensus
By Linda Bentley | April 28, 2010
You canít zone out adult businesses; you have to allow them somewhere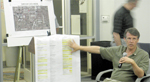 CAVE CREEK – A special joint workshop of the planning commission and council was held Monday night to review areas suitable for more intense use that could be subject to general plan amendments as recommended in the economic development committee's White Paper.
More...

Cave Creek Academy presents opportunities for gifted children
By Linda Bentley | April 28, 2010
Private K-8 school to offer relief from 'untenable' public school options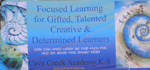 CAVE CREEK – Cave Creek Academy (CCA), a new K-8 private school, will be opening in August.

The school's owners are Michael Chapin, a former child actor and businessman, and Martha Harvey, a lifelong educator experienced in "everything from pre-school art and Spanish to college physics and adult literacy." More...

Missing – Daniel Heidinger
Daniel Heidinger, a Tempe ASU student, has been missing since Wednesday April 21, 2010. He left his apartment around 5:30 p.m. and was seen getting on the light rail heading west at the Mill Ave station.

Dan was last seen wearing a grey tee shirt and light blue jeans. Dan's car, keys, wallet (minus driver's license), laptop computer and cell phone were all left at his apartment. His passport was found.

Dan is 22 years old, blonde hair, blue eyes, 5-11, 170 lbs. with a slim build, no tattoos or piercings. Dan occasionally wears glasses.

Please help spread the word and help find Daniel Heidinger.

Anyone with information, please call either the Tempe Police Department at 480-350-8311 or Emil Heidinger at 216-308-0041.