Fenger Pointing

Becky Fenger | April 28, 2010
Sex, lies and videodates

Now I've heard it all. I thought the radio ad was a joke, but I stopped laughing when I checked out the Website for myself at www.ashleymadison.com. This is a dating service with a twist, since it exists for married folks looking to have extra-marital affairs. The "o" in the word Madison is formed with a wedding ring. How cute is that?

"Are you married but looking?" the site asks. "Feeling neglected and in need of some excitement?" As if some people needed prodding, the Ashley Madison motto – which is trademarked, by the way – is: "Life is Short, Have an Affair." The service is certified (for what that's worth) and has been featured on the shows of Oprah, Larry King, Ellen DeGeneres, Dr. Phil, Tyra Banks and Howard Stern. I can imagine Larry King drooling on his keyboard now, looking to get some side action when life with Wife Number 19 (or something like that) gets boring.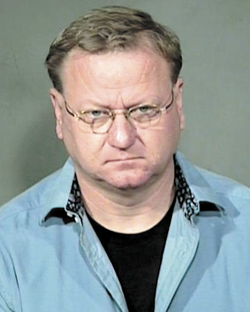 Jumping from married sex to clergy sex, defrocked Catholic Monsignor Dale Fushek pleaded guilty on April 15 to one count of misdemeanor assault for which he received a mere 364 days of probation and a fine and surcharge totaling less than $500. That's a travesty.

Worse, the charge was deemed non-sexual, although he was "flicking" a male's genitals. Fushek's attorney termed it horseplay. Ya, sure. But it saves Fushek from having to register as a sexual offender. And it saves the state of Arizona the expense of five separate trials.

Horny Dale Fushek has a long history of impure thought and deeds. In 1995 the Roman Catholic Diocese of Phoenix paid $45,900 to settle a sexual harassment claim against him in what has been called a "go-away" payment by the church. Jim Cunningham, the Phoenix attorney who negotiated the settlement, warned them that Fushek's sexual behavior may lead to more trouble.

Instead, Fushek was elevated in 2000 to the exalted position of vicar general of the Diocese of Phoenix, and observers expected that he would one day be the Bishop. If he just could have kept his hands off the teenage boys in his charge and his naked bulbous body out of hot tubs with them. Instead, the Monsignor announced his resignation from St. Timothy's in 2005 over charges by former church member William J. Cesolini that Fushek pleasured himself while watching another priest sexually abuse the boy in 1985. I suppose he thought he could get away with it, since he was second in command to Bishop Thomas O'Brien who was known for covering up for priests accused of sexually molesting children.

There are a number of outrages here besides the criminal findings and the damage to the young men at the hands of a popular priest. Fushek is a sexual predator and should have been forced to register as such. It seems the Catholic church was more irritated that he founded his own church after he was defrocked and excommunicated (that's stripped of his priesthood, for you non-Catholics) than they were over his sexual assaults.

I will never understand parishioners who keep defending Monsignor Fushek and Bishop O'Brien long after they have been found guilty. O'Brien routinely reassigned clergy whom he knew had sexually molested victims and ordered priests who wanted to call police to keep their mouths shut. In one case, he ordered a priest to leave the priesthood if he went to the police and spilled the beans. Why is O'Brien still honored at Catholic celebrations and living off the collection plate? Does he have to run over and kill a second person?

The scandal has reached all the way to Pope Benedict XVI. I hope he is innocent of the charges. Right now, only God knows.