My View
By Don Sorchych | April 21, 2010
House Bill 2154

It looks like rural Arizona home owners were blind-sided by Rep. Nancy Barto (R-Dist 7). Barto has quite a reputation for pinning her continuing candidacy as being a right to lifer, which is only one component of considering yourself a conservative. She also originally got her House seat by collecting proxies, allegedly promising the proxies for another candidate, but using them for herself instead.

Apparently through her connections in LD-7 where she had been chairman she decided to sponsor HB 2154 for a precinct committeeman named Gerald Freeman. The bill had no co-sponsors.

By the time we found out about the onerous bill, it already had passed the House with the third reading only hours away in the Senate.

Since the status of the HB 2154 was a moving target we used the kicker box space in the April 14 issue to alert the public and asked rural landowners to write or call Governor Jan Brewer and suggest a veto of the bill. I believe the bill is currently in the rules committee where legal and constitutional issues are examined.

The kicker box read: HB 2154 would force property owners that share no maintenance agreement to pay for improvements imposed on them by any neighbor. HB 2154 would be a disaster for rural Arizona if it becomes law. Call or e-mail Gov. Jan Brewer at 602-542-4331 or http://azgovernor.gov/contact.asp and ask her to veto HB 2154. Check SonoranNews.com for full disclosure.

Since the lawsuit Freeman brought against me is personal I haven't published much about it. But, now, if this bill is passed not only will I be in a much higher risk situation, so will every Arizona land owner who accesses their property through a private easement.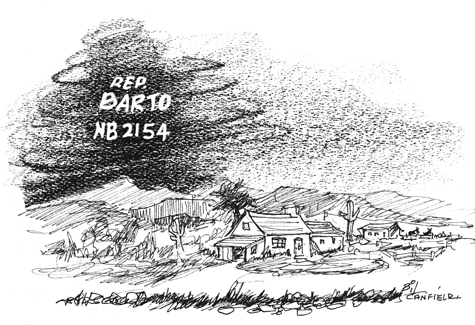 HB 2154 is explosive and the legislature did nothing to examine myriad issues that it will create.

If you are on an easement with someone else, your neighbor could do anything he chose to the easement and demand payment from you. HB 2154 is a guaranteed trip, or many trips to court while paying attorney fees.

You probably relied on your easement documents as I did and few, if any, require payment for maintenance of your road.

A mediation conference ruled in my favor. Freeman appealed and he lost again in superior court. Now, he has appealed the case.

So while the appeal is pending, Freeman's political buddy, Nancy Barto quietly peddled HB 2154 to the House of Representatives and the Senate. It is telling that Barto, Freeman and Freeman's attorney all appeared before the Senate to push for HB 2154.

Freeman has had success before by having former Senator Jim Waring push for a bill that lowered Freeman's property tax, so he knows the game.

Also while our case is on appeal he has demanded that I pay one half of $5,600 for work he claims he had done and also a portion of $44,000 to replace a concrete footing across Cave Creek and other items.

Previously he sued the town of Cave Creek about the work he was doing and the town passed a resolution that they have no jurisdiction over private roads. He later sued the town for legal fees but a federal judge ruled he was beyond the statutory limit.

When I placed a lot for sale on the south side of my ten acres Freeman erected a sign on Old Stage Road that stated: "Property owners using this private easement are liable for monetary contribution and support for maintenance currently in court litigation."
The lawyer for the property owner where Freeman erected the sign asked him to remove the sign but was threatened by Freeman to be joined in the suit he has against me.

Even though he lost in court and has the case on appeal he refuses to remove the sign. The sign caused my Realtor to resign saying he couldn't sell the listed property with such a sign that must be passed by a prospective owner and he would have to disclose there was a hostile neighbor.

During the several years this case has been in court we have opened the road after a flood numerous times while Freeman opened it once when we were stranded in town. Each and every time we were able to create a suitable road using our tractor.

Freeman however, had to satisfy Rural/Metro to get a building permit and chose a road which a town could be proud of. While we leave waste receptacles on property to the east of the creek, with the owner's permission, Freeman has Waste Management traverse the .6 mile private road to pick up his garbage. He gets regular deliveries from Fed Ex and pizza. We don't and have always been happy with the primitive road which is pretty much a Cave Creek standard.

Freeman was a salesman for Caterpillar in Peoria, Illinois and resided in nearby Morton. Apparently his retirement gives him money to spend and he uses it like a club – in court.
HB 2154, if signed by the governor, will create a statewide rush to court by people who want road standards their neighbors may not share but must defend in court.

Lawyers should love this bill.

Barto has never distinguished herself in the legislature and has been proven to be a liability to the Republican Party.

To underline the fact this is a Freeman/Barto vendetta, I am sure she is aware of the prejudice of the few supporters of this bill. This is the type of bill that needs months or years to examine before voting at the legislative of executive level.

While the bill was in committee the people for the bill were Freeman and his wife, his attorney and his wife, his home builder's wife, Freeman's road builder and his wife and employee and Michael and Lisabeth Weideman and what appears to be a half dozen of Freeman's "friends."

The Weideman's are remote neighbors of Freeman and Lisabeth often criticized me and Sonoran News after she and Easter Seal tried to bully the town to give her an illegal road.
It would seem to me that such rigging of the vote was obvious and never should have been voted without state-wide outreach for public comment.

For Barto's part, here is her jaundiced view: " A similar law has been in place in Ca[lifornia] since 1939 and has worked fine, though it is likely to help rather than hurt rural areas. But we are still working to insure there are no unintended consequences. Stay tuned."
So we should copy California statutes? Read Linda Bentley's article this week. Barto is lying.

Express your views to Nancy Barto at 602-417-3011 and don't let her staff tell there is nothing Barto can do because it has passed the House and is in the Senate. Barto can and should withdraw HB 2154 as the sole sponsor. Her fax is 602-417-3011 and her e-mail is: nbarto@azleg.gov. She can and should withdraw HB 2154!

The governor's phone number is 602-542-4331 or contact her online at www.azgovernor.gov.