Baseball gets off the deck to upset top-ranked 'Cats!
By Pete Mohr | April 21, 2010

Jaron Long tosses complete game 5-hitter; Charlie Dominick stars both ways, as co-captains lead Falcons to 2-0 revenge at Saguaro
SCOTTSDALE – "Do you bee-leeve in miracles?!" Al Michaels' famous call of USA Hockey's 1980 Olympic championship. Yes, Al, I do; but I sure as heck wasn't expecting one when the Baseball Falcons bussed down to Saguaro, Thursday, April 15, to take on the #1-ranked, 18-1 Sabercats who'd embarrassed the 'Birds, 15-3, at Falcon Field only two days earlier. The final at 'Catville? Cactus Shadows, 2 - Saguaro, 0. If that ain't a miracle, it's doggone-sure "close enough for Government work!" More ...
ëBirds, ëDogs split: Baseball wins, 5-3; Q.C., 9 - Ladybirds, 5
By Pete Mohr | April 21, 2010
QUEEN CREEK – Baseball Falcons kept their "mo" goin' at Queen Creek on April 20, leading the Bulldogs wire-to-wire – winning, 5-3. More ...
Dressed to the nines, Cheerís Seniors, fine!
By Pete Mohr | April 21, 2010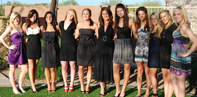 Before an evening of well-deserved accolades and awards capped off yet another championship season for Cactus Shadows Cheer, the squad's ten seniors were photographed before the Friday, April 9, event at Northridge Community Church.
More ...
Flying the flag on Senior Day!
By Pete Mohr | April 21, 2010
Head Coach Geoff Johnson nominated four seniors (with their parent(s) and escort) to photographically represent their compatriots at Senior Day, Wednesday, April 14, at Falcon Stadium, where both Boys and Girls handily defeated Seton Catholic and Williams Field in the last home meet of the season. More ...
A class of 2010 Relayers!
By Pete Mohr | April 21, 2010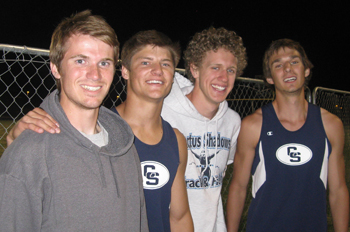 The dark background for this photo tells that the Boys 4x400m relay was the last event at Track Falcons' Senior Day, Wednesday, April 14, at Falcon Stadium. "And the winners were" (l-r) seniors Geoff Byers, Matt Schneider, Walker Bohannan and anchor Ryan Toomey, who kicked past the Seton anchor for the victory. Sophomore Joree Schneider unselfishly sat out, so that Matt Schneider could appropriately make it an all-senior relay team. Joree will be flyin' again this fall for the Football Falcons!
Arizona Educational Foundation names 2010 A+ Schools of Excellence
April 21, 2010
20 schools recognized by AEF for overall success
PHOENIX ñ The Arizona Educational Foundation (AEF) today announced 20 schools have earned the A+ Schools of Excellence Award. Since 1983, AEF has honored exemplary PreK-12 public schools in Arizona through the A+ Schools Program. More ...