Barto sole sponsor of easement vendetta bill
Freeman v. Sorchych = HB 2154
By Linda Bentley | April 15, 2010
CAVE CREEK – In 2005, Gerald Freeman, along with his wife, filed a complaint against his neighbor Donald Sorchych, who also happens to be the publisher/editor of Sonoran News, in an attempt to have Sorchych share a portion of what grew to be an approximately $30,000 expense for improvements to an easement. More ...
Neighbor shoots dog in apparent effort to destroy the 'evidence'
By Linda Bentley | April 7, 2010

'Cruel mistreatment' means to torture or otherwise inflict unnecessary serious physical injury upon an animal
CAVE CREEK – On Tuesday, March 30, when David Etter came home from work, he sensed there was something wrong when his dog Rosco, a German Shepherd/Shar-pei mix wasn't right there to welcome him home. More...


Watch Channel 3TV news video

Carefree Earth Day Expo and pancake breakfast this Saturday
By Linda Bentley | April 14, 2010
Councilman restaurateur to the rescue after Kiwanis flap over flapjacks
CAREFREE – For about six months, the town's events brochure advertised April 17 as the date for the popular Kiwanis pancake breakfast.
More...

Gotcha!
April 14, 2010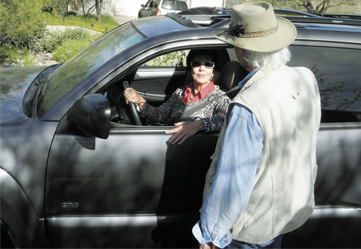 As she was driving by the Sonoran Newsí parade entry in the staging area, this woman stopped to tell Publisher/Editor Don Sorchych, ìI could kill you!î Believing the April Foolsí article about Cave Creek forming a red light district on the west side of town, she immediately stormed town hall, demanding to see the mayor or town manager. ìWhen I learned it was just an April Foolsí joke,î she said, ìI just wanted to cry.î All we can say is, ìGotcha!î Photo by Linda Bentley
People flocked to Fiesta Days Parade
April 14, 2010
Saturday's Fiesta Days Parade drew a large crowd to Cave Creek and seemed to bring some relief, if only temporarily, from the woes of the world – Iraq, Afghanistan, murders along the Mexican border, high unemployment and the present economy. Photo by Linda Bentley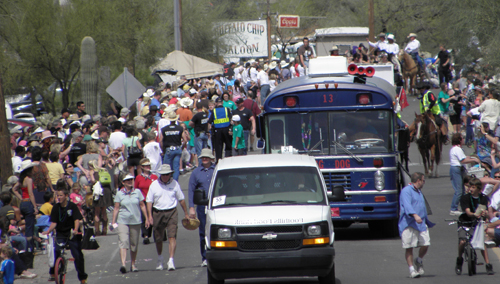 Black Mountain Photo Contest winners announced
April 14, 2010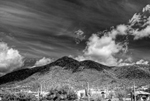 Don Sorchych, Publisher and Editor of Sonoran News, assisted by Sonia Perillo, Executive Director of the Desert Foothills Land Trust and Stacy Fischer, DFLT Photo Contest Committee member, presented the Black Mountain Photo Contest awards at a reception Friday evening at the Desert Foothills Library. Joanne Rebollo, Debbie Maurer and Andreas Schmalz also served on the Photo Contest Committee, chaired by Pat Patterson. More...