Power Points: Baseball 6th, Softball 7th
By Pete Mohr | April 14, 2010
Home and Away this week vs. Saguaro
CSHS – If the 2010 regular season were to end at this Monday night, April 12, writing both the Baseball 'Birds and the Softball Lady Falcons would make the State Playoffs – and host their 1st Round game. More ...

At 11-0 Lady Netters rank 4th in Division!
By Pete Mohr | April 14, 2010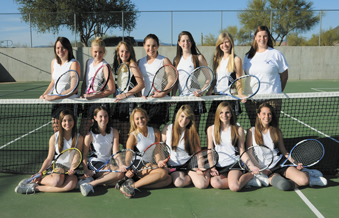 Jill Kratzke's "day job" is teaching 8th Grade Social Studies at Sonoran Trails Middle School. In the afternoons, this affable lady is enjoying her first season as head coach ("teacher") of Girls Tennis. It would be hard not to proudly enjoy her gals' ("a great group!") current 11-0 record! The Lady Falcons are 4th-ranked in 4A-Division I. Only Saguaro (H) on April 13 and McClintock (A) on the 15th stand in the way of winning the Desert Sky Region championship, a pre-season goal.

Pictured: (front, l-r) Katie Radez (Var-SO), Katie Maroney (Var-JR), Co-Captain Carolina Nick (Var-SR), Sarah Austin (JV-SR), Brooke Ralston (JV-FR), A.J. Davis (JV-FR); (back, l-r) Meghan Fox (JV-FR), Chelsea Shultz (JV-SO), Kelly Maroney (Var-FR), Co-Captain Zoe Hoffman (Var-JR), Kiri Campbell (JV/Var-SO), Elizabeth Wilson (Var-SO), Coach Kratzke.
"My special thanks go to Winfield, our home matches host, and to my invaluable parent volunteer, Barb Maroney," Coach Kratzke emphasized to Sonoran News.
Congratulations, Ladies! Good luck at State! ~ Pete Mohr
Youth Football Registration on Saturday, April 17
By Pete Mohr | April 14, 2010
WHERE: Black Mountain E.S. Cafeteria
WHEN: 9 a.m. - Noon
REGISTRATION FEES: Flag - $125; Tackle: By April 17 - $135, by May 15 - $155,
after May 15 - $175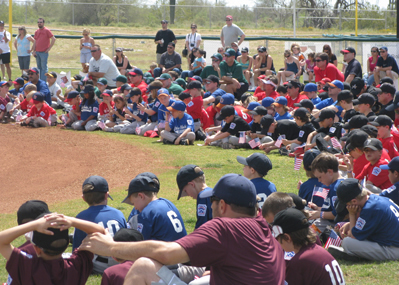 An Association fee will be payable at beginning of season (August): Tackle - $175;
Flag - $85. Registration after June 12 will be subject to space availability. An additional $25 late fee will be charged. Please note: THERE ARE NO REFUNDS.

Financial assistance is available: president@cavecreekfootball.com
Registration Requirements:
• Applicant and legal guardian must be present
• Proof of residency (no phone bills): original plus one copy
• Original and two copies of birth certificate
• Registration fee
"KIDS WITH CLEATS" Program: Please bring old cleats for donation. Thank you!