New hours but same tried and true Saguaro Grille

By Marielle D. Marne | April 14, 2010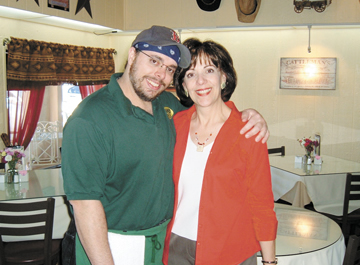 CAREFREE – The times may change but diners can still rely on great food at Saguaro Grille! That is, the eatery recently switched over to its summer hours, open every day from 7 a.m. to 3 p.m. While Saguaro Grille has been open since 2007, many people are surprised to learn a full bar menu is available for wine, beer (domestic and imported) and cocktails. One to try is the Carefree Cooler. Think Tom Collins with a refreshing Saguaro Grille twist!

New, too, is a lunch combo. A tough choice between a half sandwich of tuna, chicken or egg salad and a cup of soup or house salad. Just enough food for a reasonable price. Some other favorites: Mushroom Swiss burger (one of 14 hamburgers on the menu), Tuna Melt, "The Usual" for breakfast, lattes, and of course, all ice cream and smoothies!

Call 480-575-0021 or see www.SaguaroGrille.com for details on free WiFi, delivery service by Mobile Waiters or to preview the menu. The owners and staff are ever so accommodating. "We usually say yes to any special requests as long as we have it," assured Kathy King, who co-owns the restaurant with husband, Neil, their son and Saguaro Grille chef, Steve, and his wife, Theresa. Saguaro Grille is located at 99 Easy St. in Carefree.