Relief pitcher Grant Lasley, catcher John Leonard tandem preserves dramatic night win at McClintock, 10-9
By Pete Mohr | April 7, 2010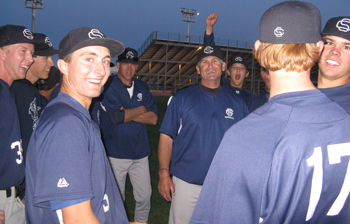 "You guys wanted it!" That was Head Coach Mike Baker's (c.) praise to his Falcons after they'd edged homestanding McClintock in a 10-9 thriller, April 1. Any April Fools joke was on the Chargers!
Photo By Pete Mohr
TEMPE – Somewhere around 6:30 p.m. on April 1 the sun set behind the tree line on the east side of McClintock Drive. As the sun went down, the west wind blew stronger – and colder and this writer's windbreaker wasn't breakin' nothin'! The good but unseasonably cool baseball weather at of the 4 p.m. first pitch had deteriorated into close-to-miserable conditions. Calling up one of the most frequently quoted Yogi-isms (the inimitable Baseball Hall of Famer Yogi Berra): "It was déjà vu all over again."
Surely Falcon Baseball fans have not forgotten April 16, 2009 at McClintock, when home plate umpire Rick Nurka irresponsibly allowed, in near-darkness (McClintock has no lights), the game to continue into the home half of the 10th, when a Charger game-winning (2-1) line drive came dangerously close to hitting Falcon center fielder Nick Francis in the face! The possibility of déjà vu was beginning to look all too real. Postgame, CSHS Head Coach Mike Baker opined to Sonoran News, "I figured that the umpire was going to let, maybe, two more McClintock batters hit before he called the game."

Fortunately, "Blue" didn't have to make that decision. With Mac down, 7-10, in their "last call" 8th, the Chargers rallied to trail by one run, men on 3rd and 2nd, two out. On in relief came sophomore Grant Lasley to face lead-off hitter shortstop Chaz Contreras.

Twice Contreras lifted slicing fouls to right. In daylight, either 2nd baseman Connor Sabanosh or rightfielder Charlie Dominick makes a game-ending catch; but you can't catch what you can't see. Contreras stays alive, walking on a 3-2 count. Now the bases are loaded; and it's getting darker – and colder – by the pitch.

Into the batter's box steps 2nd baseman Rich Martinez, generously rostered at 5'5". If Lasley walks Martinez, the game is tied, with the dangerous Tyler Messer next up. Martinez works Lasley to a 3-1 count before fouling off the next pitch. Full count.

Any catcher will tell you the most difficult play to make behind the plate is to glove a foul tip for strike three. And that's what happened.

Martinez foul-tips Lasley's next pitch into the glove of catcher John Leonard, making only his second Varsity start. Leonard holds on! Game over! Falcons win, taking the regular season series from the Chargers, 2-1.

Lasley, a genuine "bulldog," confessed to this writer, "I was scared. All I could do was try to throw my best stuff and hope he (Martinez) would make out." An understandably jubilant Leonard could not explain how, in the semi-darkness, he was able to hold onto Martinez' third strike foul tip, a game-winning stab that should go down in Falcon Baseball history.

In the top of the 8th, deadlocked, 7-7, the Falcons had gotten a big two-out single to left by Joey Ford that plated Dominick and pinch hitter A.J. Zygutis. A single by third baseman Brent Nurre, followed by a Contreras throwing error, got Ford home with the Falcs' tenth run, which proved to be the winner.

In the top of the 5th, pitcher Jaron Long's two-RBI single to right center sparked a three-run comeback that pulled the 'Birds even at 7-7. With one on, one out in the Charger 7th, Sabanosh deftly fielded a ground smash to start a sparkling 4-6-3 double play that sent the game into extra innings.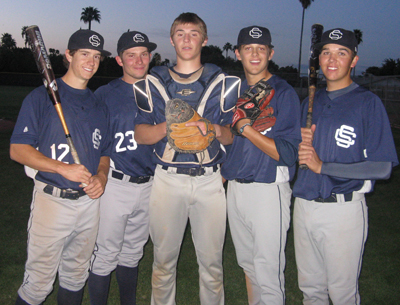 Putting a charge into the McClintock Chargers were (l-r) clutch hitter Joey Ford, closer Grant Lasley, catcher John "Big Glove" Leonard, starter (and winner) Jaron Long and 2nd baseman/RBI producer Connor Sabanosh. Photo by Pete Mohr


"A big Region win for us over a good baseball team," praised Coach Baker. "Our kids really wanted it! The 'worm turned' in this one. We finally got some timely hits. Joey's (Ford) two-out single was huge for us! From this win, I look for our young players to really start believing in themselves. I think we're gonna be okay from here on in."

This week's "on in" will afford the 6th-ranked Falcs a deep breath against two non-Region opponents: April 6 at Shadow Mountain, then home on the 8th to host Prescott. Senior Marc Brenner will get the Shadow Mountain start, with sophomore Sean O'Grady probably getting the call against the Badgers, 4 p.m. first pitch. Mark your baseball calendars for Tuesday, April 13, when the #1-ranked Saguaro Sabercats come to Falcon Field, same 4 p.m. first pitch.