Late breaking sports news!
By Pete Mohr | April 7, 2010
Unless living under a proverbial "rock," you've surely heard by now that CSHS Head Football Coach Chad DeGrenier is staying on to mentor the Football Falcons – in 2010 and beyond! Details next issue. Welcome back Coach D!
Relief pitcher Grant Lasley, catcher John Leonard tandem preserves dramatic night win at McClintock, 10-9
By Pete Mohr | April 7, 2010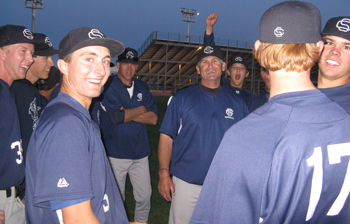 TEMPE – Somewhere around 6:30 p.m. on April 1 the sun set behind the tree line on the east side of McClintock Drive. As the sun went down, the west wind blew stronger – and colder and this writer's windbreaker wasn't breakin' nothin'! The good but unseasonably cool baseball weather at of the 4 p.m. first pitch had deteriorated into close-to-miserable conditions.
More ...

'Yes, they're movin' on up!' Ladies beat Shadow, Rank #5!
By Pete Mohr | April 7, 2010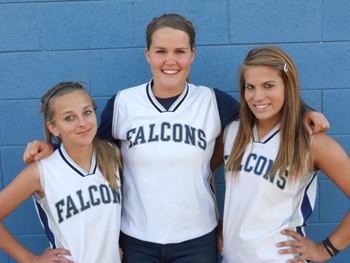 FALCON FIELD – Chalk up the LadyBirds' fourth straight win on April 6, as the Ladies led, wire-to-wire, in downing Shadow Mountain, 7-3. The Lady Falcons took the home field ranked #5 in A.I.A. Power Points. They are, indeed, "movin' on up!"

Against the Lady Matadors, the Lady Falcs broke a 0-0 deadlock with four runs in the bottom of the 3rd. Elyssa Hartsock, Amber Underdown and Kristin Hillier were the RBI producers. The Ladies, who banged out 11 hits, added single tallies in the 4th (Gracie Goulder, RBI), 5th (Megan Scarpulla, RBI) and 6th (Camille McIver, RBI).

Underdown pitched her second consecutive complete game for the win.

Three tough road tests are on deck for the LadyBirds over the next seven days: Prescott (April 8), McClintock (April 12) and Saguaro (April 13). "We love playing on the road!" Head Coach Danica Gianni enthused to Sonoran News. "The Girls are playing great! We're out to win all three." The Lady Falcons return home, Thursday, April 15 to host Saguaro in the last of three regular season meetings.

Just for fun, and to keep 'em loose, I'm gonna call these gals the "Lady Jeffersons!" #5 in Power Points? Now that's impressive!
Track's 'Four Seniorteers!'
By Pete Mohr | April 7, 2010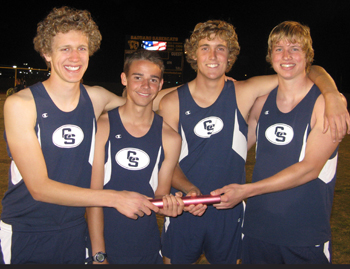 With the Boys 4x800m relay team, it is, indeed, "One for all, and all for one!" Photographed by Sonoran News after their 3rd place finish at the cold-fronted Scottsdale Running Classic (distance events only), Saguaro High School, Thursday evening, April 1, (l-r) seniors Walker Bohannan, Austin Miles, Keith Omundson and Ryan Storck – holding "Victoria," their "good luck" pink baton. Hang in there, Guys! Better track weather is surely coming.
Photo by Pete Mohr