Estaban's rescue
By Dannielle Marturana | March 17, 2010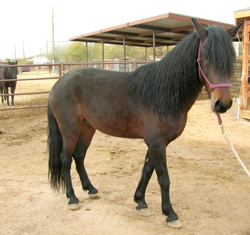 Estaban is a beautiful four – five year old mahogany bay Mustang, possibly a Paso Fino cross as his movement is gaited. He was one of six Mustangs rescued and brought to Luv Shack Ranch Horse Rescue by the Pinal County Animal Care and Control on January 20. His owner was sent to jail for animal cruelty.

Pinal County cared for him while the court case was pending. He gained weight under their care but they could not get near him so he was brought to Luv Shack as an untamed stallion. Wylene Wilson, two-time winner of the Extreme Mustang Makeover, helped us by laying him down so we could geld him and trim his feet. It was an amazing display of kindness and patience by Wylene and Estaban has benefitted greatly. He is already halter broke and is currently under saddle, having been ridden by both Wylene and Joey (founder of Luv Shack Ranch Horse Rescue). Joey continues to work with him daily which is quieting him down and building his trust. Currently he would only be available for adoption for an experienced rider/trainer.

Dannielle Marturana is Ranch Manager at Luv Shack Ranch Horse Rescue,
36029 N. 10th St., Phoenix. For more information call 602-205-8528.