Cheer/Pom 'Strive for Five' at Spirit Line competition
By Pete Mohr | January 27, 2010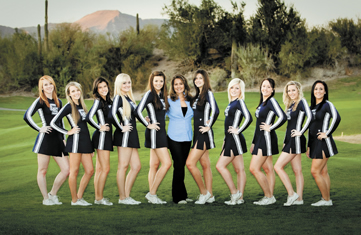 CSHS – "Strive for Five!" is Cheer's and Pom's rallying cry as they head for this Saturday's A.I.A. Spirit Line Championships at Tim's Toyota Center in Prescott Valley. The Lady Falcons will be shooting for an unprecedented fifth consecutive State title!

In a Saturday, Jan. 23 tune-up, Cheer was Varsity Grand Champion at Valley of the Sun National Cheerleading Championships held at Phoenix Convention Center.

Spirit Line Head Coach Rika Cuff to Sonoran News: "Don't Stop Believing! That's always been our motto. The odds are against us to win five straight titles; but the girls are very focused … positive. We're going up there to bring home number 5!" Cheer veteran Cindy Knuteson, Pom's new leader, will be making her A.I.A. Championships debut as a head coach.

Good luck, Lady Falcons! And the same to Coaches Cuff and Knuteson!

2009-2010 Varsity Rosters
Meet the Basketball Falcon seniors … Ben Leech
By Pete Mohr | January 27, 2010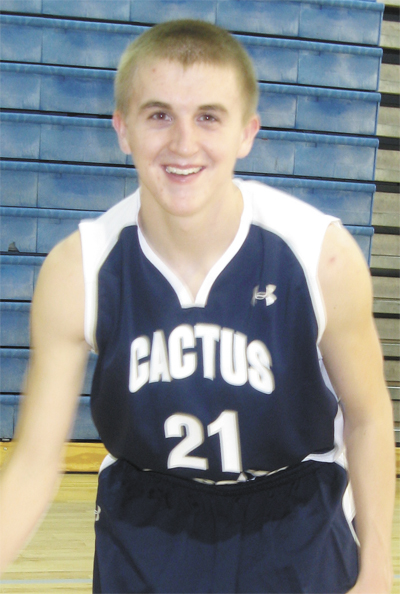 For all Falcon athletes – Boys and Girls – their senior seasons are rightfully anticipated to be special … the most memorable … the culmination of a four-year commitment of time and effort. Regrettably, Ben Leech's senior season has been one of disappointment and frustration. Negligible playing time, the principal cause.
With only six games left in the regular season, and the Falcons' State Playoffs chances fading, Ben's senior season anticipation … his basketball hopes … are "close enough for Government work" to being gone. Some games ago, he "got the picture" that he'd be playing out the season "ridin' the pines" – but he never gave any thought to quitting. Never!
You'll hear no whining … no complaining … no finger-pointing … from this quiet-spoken, respectful National Honor Society member. Instead, he'll tell you "how exciting it's been to reach my goal (since his 6th grade year at STMS) of playing varsity basketball for Cactus Shadows." And he confidently volunteers this upbeat prediction: "If we play our game, we're gonna make the Playoffs!"
Ben, the only son of Creekers Brad and Beth Leech, was born Dec. 12, 1991 in Cleveland, OH. Sophomore sister Brenna, currently rehabbing a seriously injured knee, is itching to rejoin her Lady Falcon soccer teammates next fall.
The Leech family moved to The Valley in 2001, and shortly thereafter to the Desert Foothills. Ben entered CCUSD as a 5th grader, when he first played organized basketball. At 5'10" he acknowledges he is proud of his 6th Man role for last season's 19-2 JV Falcons. Following his graduation from Cactus Shadows, Ben plans to attend the U of A, majoring in criminal justice.
Last Friday night at McClintock, the athletic, high-octane Chargers were "alley-ooping" the Falcons, 66-42, when Ben was sent into the embarrassing runaway mid-4th quarter. He immediately hit back-to-back "threes!" Did those two "super shots" redeem Ben's senior season? Probably not; but I hope he'll memory-bank those six points forever!