Hoop Gals cruisin' to peak; Guy Falcons 'up against it'
By Pete Mohr | January 20, 2010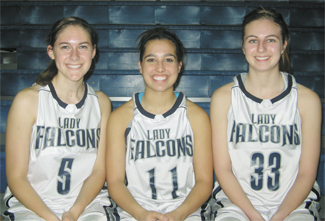 CSHS – "And down the homestretch they come…" hopefully both hoops squads racing to the State Playoffs. Barring a total collapse, the Lady-Birds, currently ranked #7 and unbeaten in Desert Sky, will make it. They have seven games left in regular season play – three at home (all Region) and four away, ending up back-to-back at Apache Junction (Friday, Feb. 5) and Notre Dame (Wednesday, Feb. 10).

A stifling defense and balanced scoring from 12 different players, none in double figures, got a reserved postgame smile from Head Coach Ryan Pletnick after his Lady Falcons crushed Queen Creek, 64-31, in a Jan. 15 at-home romp. Apache Junction's Lady Prospectors came in for an important test, Tuesday, Jan. 19, followed by McClintock three nights later. "Dee-fence!" Coach Pletnick stressed. "Giving up 31 points was too many." Without jinxing the Ladies, this writer sees a hustling team building to a State Playoffs peak. The Lady Falcons have earned a big home crowd for this Friday evening's rematch against "Mac." Please see Front-Page Sidebar for Apache Junction results (Girls and Boys).

Friday evening, Jan. 15, Falcon Boys made the long trip down to Queen Creek, but failed to build on their Tuesday night victory over Saguaro, losing 52-63, despite Quad- Captain P.J. Ubides' five second half "threes." Guys have fallen to #19 in Power Point rankings, with seven games remaining. Their Playoffs hopes could well come down to a back-to-back finish, at home, against A.J. (Friday, Feb. 5) and Notre Dame (Wednesday, Feb. 10). Hang tough, Guys!
Meet the Basketball Falcon seniors … P.J. Ubides
By Pete Mohr | January 20, 2010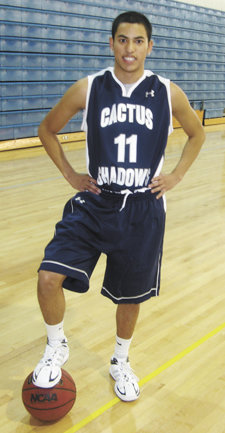 ?Profiling Basketball Falcons' Quad-Captain Peter John Ubides, IV, known to all as P.J. since his Sept. 10, 1991 birth in Long Beach, Calif. His last name is correctly pronounced, "U-bee-diss."
Son of Phoenician P.J. Ubides, III and Creeker Juvy (Mrs. Andy) Sylvester, P.J. was most emphatic in making sure I knew that "win or lose, I'm proud to be a Basketball Falcon." His quad-captaincy gives him "a feeling of accomplishment – and an opportunity to be an encouragement to the younger players. That's special to me. I love to play my best in front of our fans" – although he slyly admits to an in-your-face satisfaction when one of his trademark "threes" shuts up an away-game crowd!
P.J., who moved with his family to the Valley at age two (Desert Sun, Desert Willow, STMS and Cactus Shadows), understands that the biggest test of his basketball skills – and leadership – will come over the next two weeks. "For us to get to the 14th seed in the Playoffs, we're gonna have to win out," meaning the last seven games, including the toughest test at athletic McClintock this Friday.
More than a little curious, I asked him how he became the Falcons' three-point shooting threat. "Well, by the start of my junior season, I was 5'8", but not growing much. At that height, it didn't take me long to figure out that I wasn't going to be very successful driving to the rack. I needed a jump shot. I worked and worked and worked until I got comfortable shooting the three from anywhere outside the arc."
And how does the Falcons' sharpshooter know when he's "on?" Smilingly making a big circle with both arms, P.J. laughed, "When the hoop looks this big!" Most times, he says that nailing a couple of free throws will get his "trifecta" jump-started. When P.J. is "zoned," he is, hands-down, the most electric Falcon on the court.
"Mr. Outside" (P.J.) and "Mr. Inside" (Kyle Gunter) carry the Falcons' fading hopes for making the Playoffs; but until the 'Birds may be mathematically eliminated, I will keep "believing in miracles!" P.J. will, too.