Business to Business | January 13 – 19, 2010

Learn how to have your health records at your fingertips with Personal Health Records. Free open house Jan. 22, 9 a.m.-4 p.m.: Information sessions at 10:30 a.m. and 2 p.m. Refreshments provided. Desert Foothills Library: 38443 N. Schoolhouse Road, Cave Creek. Phone: 480-488-2286. Sponsored by Medicare and Arizona Health-e Connection.
Saguaro Grille suggests trying a latte or cappuccino along the covered sidewalk café. Free Wi-Fi. Saguaro Grille is located at 99 Easy St. in Carefree. The hours during the Carefree Fine Art & Wine Festival are Wed.-Thu., Jan. 13-14, 7 a.m. – 3 p.m.; Fri.-Sun. Jan. 15-17, 7 a.m. – 5 p.m. Call 480-575-0021 or visit www.SaguaroGrille.com.
Saba's Mediterranean Cuisine offers you the freedom to choose when you dine and your entrée during your Saba's dining experience. Coupons in their ad give you $5 and $10 off! 3755 Hum Road, Carefree. Call 480-575-6574 for reservations or more information.
Great American Southwest food for breakfast, lunch and dinner at great prices at Heart and Soul Café. See their ad for coupons for 20 percent off your entire breakfast or lunch bill Monday – Friday and 50 percent off the second diner entrée of equal or lesser value. 4705 E. Carefree Highway. Call 480-595-7300 for more information.
Tatum Ranch Golf Club is a premier wedding venue – elegance at an affordable price. Visit them online at www.TatumRanchgc.com, call 480-585-2399 or visit them at 29888 N. Tatum Ranch Drive in Cave Creek.
Call Carefree Acupuncture for private care devoted to modern, scientific acupuncture. Dr. Debra Richel and Dr. John A. Amaro of Carefree Acupuncture have 59 years of combined experience. They are conveniently located in the Carefree Office Center at Elbow Bend and Nonchalant in Carefree. Call 480-488-9647 for your appointment.
Try something creative this year
CAREFREE – Carefree artist Virginia Brooks has been a familiar face in the local art community for years. She has participated in the Hidden in the Hills Studio Tour since its beginning, supported the two yearly Sonoran Arts League Shows and is a fixture at the Thunderbird Artist's Fine Art and Wine Festivals.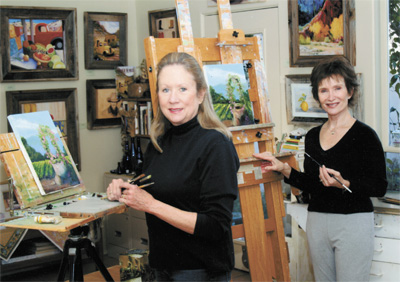 When Virginia Brooks says "Come Paint With Me" she means exactly that. Last year she began offering one-on-one instruction in oil painting. She enjoys sharing what she has learned in over forty years of oil painting. "It's very different from being in a classroom with other students. I give private or semi-private lessons. We paint together, side by side. We paint the same subject and I explain everything I am doing, step by step. The learning process is much faster this way, and it can be more easily remembered."

"This is a really quick way to get a lot of painting knowledge in a short period of time", says Lana Albright, a former watercolorist who wanted to try oils. "It's a place where I walk in the studio door and my confidence as an artist noticeably rises. Virginia supplies not just her knowledge but also the canvas, the paints and everything needed for me to complete a successful painting. She even does the brush cleaning!"

"There is no time to be afraid of a blank canvas," laughs Brooks. "The sessions are two hours long and my students finish a painting in just two sessions. I feel the more different subjects we have, the better my fellow painters will become, faster!"

Try something creative this year. You might be surprised at how much you can learn.

Courtesy Photo: Virginia Brooks, left, with Lana Albright.