Rural/Metro rings out old year putting out fires
By Linda Bentley | January 6, 2010

DESERT FOOTHILLS – At 2:45 p.m. on Monday, Dec. 28, Rural/Metro Fire responded to a call in the 6000 block of E. Cholla Drive in Cave Creek to find Roberta Lamoureux's home fully involved with heavy smoke and flames coming out the front door.
More...


Real hunters choose wilderness
By Linda Bentley | January 6, 2010
CAVE CREEK – Hunting in Arizona, like open range cattle, is permitted in certain areas. If people don't want open range cattle on their property, they need to fence them out. And, if folks don't want hunters on their private property, they need to post signs indicating such. More...
Horse riding accident victim Air Evac'd Dec. 26
January 6, 2010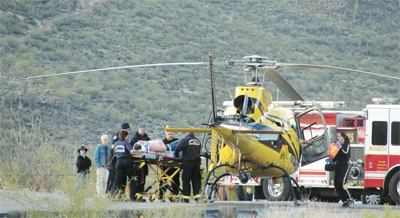 A male rider was injured on Saturday afternoon, Dec. 26, when he fell from his horse while on a trail in the town of Cave Creek. The fall occurred just south of Spur Cross Recreation Area, east of Spur Cross Road, causing suspected right side rib injuries. Rural/Metro paramedics stabilized the victim and took him by ambulance to the Air Evac chopper on Spur Cross Road for transport to John C. Lincoln North Mountain Hospital. Rural/Metro Engine 821 and Paramedic Ambulance AP822 out of Fountain Hills also responded. Tending to the victim, clockwise from bottom left: Amanda Warfel, R/M EMT; Dave Caulkins, R/M Paramedic; Jay Dunfee, R/M Firefighter/EMT; the Air Evac Flight Medic and Bryce Klusovsky R/M Firefighter/Paramedic.