Business to Business | January 6 – 12, 2010

If you're seriously interested in reading, stop by the Friends of the Library Used Bookstore and purchase your books at a fraction of the price of new books. Open every day inside Cave Creek's Desert Foothills Library, you'll find current bestsellers, traditional classics, special interest titles, hardbound, paperback and a huge selection of books, DVDs and CDs starting at only $1. Stop by the Friends of the Library Used Bookstore, 38443 N. School House Road in Cave Creek. For information call 480-488-2286, or visit
www.DFLA.org. All proceeds benefit the Desert Foothills Library.
Happy New Year from Saguaro Grille! Start the New Year off right with a resolution to set aside more time for relaxation in 2010. And Saguaro Grille is just the place to do that. The staff dishes out lots of TLC along with the hearty, home-style meals. During break-time, stop in for a latte or an Ice Cream Shoppe treat. When's the last time you had a banana split or a root beer float? Make time. You'll be glad you did. Saguaro Grille is located at 99 Easy St., Los Portales Mall, Carefree. Hours: Sun. – Tues. 7 a.m. – 3 p.m.; Wed – Sat. 7 a.m. – 9 p.m. For more information, call 480-575-0021 or visit www.SaguaroGrille.com.
Does your pet fight Valley Fever? Bosco's Biscuits is hosting a seminar with Randall Thomason, MS on Thursday, Jan. 14 from 6:30 – 7:30 p.m. at 36889 N. Tom Darlington, Suite C-3. Randall Thomason is a nutritional biochemist with 30 years of experience consulting on animal and drug/nutrtaceutical design. He most recently conducted a study of a holistic approach to treating Valley Fever and is introducing a new product called Desert Defense for Dogs. RSVP 480-595-9795.
Take weapons instruction from an instructor who also teaches responsibility. Barry Tietler's teaching focuses more on how not to use a weapon. Safety and competence are more important than shooting accuracy. Concealed weapons classes with Barry Tietler at Black Mountain Baptist Church. Feb. 12, 13 and 17. Fee of $90 includes range fees, fingerprinting, handouts and instruction. Call 480-515-1446 for more information or to register.
Take the challenge! Read the Bible in 90 days. It's easy, fun and rewarding! If you can read 12 pages a day you can read the Bible in 90 days. By reading the Bible as a single book you will see the total message of the Bible, giving you a new perspective on God's love for you. See how the Bible can enrich your faith, life and understanding of God's plan. Start date Jan. 17. Desert Foothills Library, 38443 N. School House Road, Cave Creek. Visit www.Biblein90days.org.
Phoenix Security Door Company rises up from the ashes of its predecessor
PHOENIX – A sad story turns into a happy one. After 28 years of doing business in Arizona as the original custom security door company in the valley, Designer Doors, Inc. (a household name) closed its doors in May of 2008 leaving behind dozens of loyal and highly skilled employees without jobs in the throes of the worst economic recession in history.
Designer Doors, Inc. was started in 1980 by Annette Wilson and her husband, after moving here from the Midwest and bringing with them the residential security door concept. This concept caught on like wild fire and as competitors started to spring up, some of them would purchase their doors from Designer doors, Inc. to sell on their own while building their own security door companies.

After 22 years of success, Annette Wilson sold Designer Doors, Inc. to a group of investors, which ran the company for the next 6 years but were unable to mirror Mrs. Wilson's success. With the recession continuing to worsen Designer Doors, Inc. was unable to sustain itself, closing forever on May 31, 2008.

Approximately 6 months prior to its closing, Mr. Michael Maher, a CPA, was brought in to evaluate the financial condition of the company and to determine if there was a possibility of turning things around. Unfortunately, the results of his analysis demonstrated there was little that could be done at this point with the resources available and it would only be a matter of time until the company would have to close.

During this 6 month period Mr. Maher recognized and identified all the positive aspects of this company – namely its high quality products and talented and loyal employees – and made a decision shortly after it closed to resurrect this business by starting a new company and bringing over all key employees and identical products.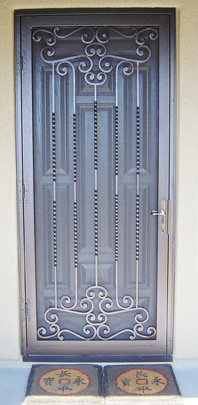 Hence, the birth of "Steel Shield Security Doors and More LLC" on June 23, 2008. Almost eighteen months later in this persistent recession, like the mythical Phoenix Bird rising out of the ashes, Steel Shield Security Doors has been able to flourish and expand creating new manufacturing, sales, and office jobs along with more than a thousand satisfied customers.
Steel Shield has opened its own powder coating facility next to its manufacturing facility with state of the art equipment and will begin its own in house powder coating of all the doors, gates, window guards and entry way enclosures it produces. This has allowed Steel Shield to create more manufacturing jobs in the valley, and will enhance turn around times and customer satisfaction which is always a top priority.

According to Michael Maher, Managing Member, "It is our intention to resume the reputation that Designer Doors, Inc. once enjoyed as being the finest security door company in the Valley. In my opinion, we might already be there." You can contact Steel Shield Security Doors at 623-581-DOOR (3667) or www.SteelShieldSecurity.com.

Courtesy Photo: Romano is one of the many styles of security doors available from Steel Shield Security Doors.