Bella Vista: No longer a 'best-kept secret'
By Pete Mohr | December 16, 2009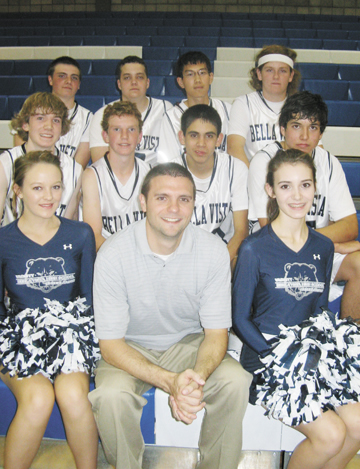 CAVE CREEK – At Bella Vista Private School (BVPS), located on Bella Vista Drive, just west of le Sans Souci restaurant, Don Brown wears many hats: Finance Director, Athletic Director and instructor in both technology and physics. He's also the husband of BVPS Vice-Principal Cindy Brown. They proudly parent basketball standout, Ben, and cheerleader, Bethany.

Don Brown's sister-in-law, Lisa Artenian, is BVPS principal. Ms. Artenian and the Browns are energetically – and innovatively – committed to growing their school into a K-12 accelerated learning experience. Founded in 2004, BVPS will add 11th grade in 2010, with its first seniors graduating in 2012.

Recently, the school's academic excellence was recognized by an invitation to become one of only three schools, joining CSHS and Pinnacle High School, in Paradise Valley Junior College's "Early College Program" for scholastically-qualified juniors and seniors.

As "A.D.", Brown is growing the school's athletic program. Earlier this year, BVPS became an associate member (1A Conference) of the Arizona Interscholastic Association, with full membership status anticipated in 2010. Currently, BVPS athletes participate in Boys Basketball, Boys and Girls Golf, Track, Tennis and Cheer.

Every BVPS student is required to participate in community or social service. In these difficult economic times, scholarship applications will be considered for well-rounded students.
Powder Puff '09 the best ever!
By Pete Mohr | December 16, 2009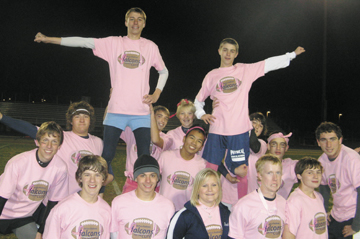 Midway through the 3rd quarter, Jackie Prochut's (middle, foreground) guy cheerleaders started chanting, "We are freezing!" But at halftime, she had obliged Sonoran News by assembling her "squad" for the accompanying pyramid photo. The two "flyers" (cheer terminology) are Alec Powers (l) and Tim Rockwell. You "grunts" (my terminology) will have to identify yourselves! Thanks, Jackie. Seniors/Freshmen won, 21-14, sparked by senior Kelsey Byron's two "big play" TD runs. Juniors/Sophmores made two late goal-line stops to keep it close. A postgame bonfire, monitored by Rural/Metro, was a welcome thawing! All in all, a fun night – for a great cause, "Falcons for the Cure" – breast cancer. Congratulations to the event's sponsor, CSHS Student Council, and their tireless faculty advisors, Cameron Bender and Allison Zilka. I'll have another cup of Starbuck's hot chocolate!