Needin' a 'Senior Leadership' re-start!
By Pete Mohr | December 9, 2009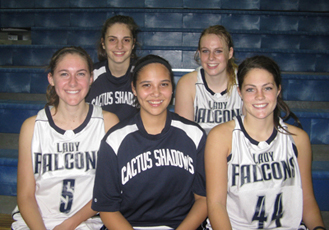 These five Basketball LadyFalcons were all smiles after their 55-36 home win, Dec. 1, over Peoria's Lady Panthers: (front, l-r, Chelsea Zalewski, Maria Carranza, Molly Shoulders; (back, l-r, Kaila Peluso, Caitlin Noll.)
For the LadyBirds' performance two nights later at always-tough rival Shadow Mountain, Head Coach Ryan Pletnick's disappointed critique to Sonoran News was short-and-sweet: "A total melt-down!" Matadors, 65 - Ladies, 45. "Ouch!" or an expletive that's not printable in this newspaper.

Weathered out (as were Boys) before Flagstaff, Monday evening, Dec. 7, the LadyFalcons, hopefully with "concussed" (the NFL buzzword) Kate Accola back on the floor, will be out to put the Shadow Mountain disaster behind them as they host the Cortez Lady Colts, Thursday, Dec. 10, 7 p.m. tip. C'mon, Seniors! With no stroll-in-the-park at Thunderbird the following evening, it's time to get your team back in winning gear. You can do it!

Meanwhile, same Dec. 1, at Boys Ranch (Barrett Gym), Falcon Guys lost a free throw shooting "no-contest" to the Matadors, 76-85. The visitors shot an incredible 32 of 34 (94.1 percent!) to the IceBirds 21 of 33 (63.6 percent – g-r-o-a-n!). To his Falcs at next afternoon's practice, Head Coach Dirk Walker put the hay down where the goats can get it: "Free throws, guys. Free throws! No excuse for shooting 63 percent!" Coach is right-on, fellas.

"Stick around high school sports long enough …" and you'll see Shadow's junior point guard, Martyre Demarco nail 20 out of his 20 free throw attempts! You read correctly: 20 out of 20! "I don't bee-leeve what I just saw!" There's the late-great Jack Buck again.

After trailing at halftime, 38-43, Falcons fought back to lead, 55-54, at the end of three, but lost their cool in the final period. In the frustrated effort, Falcs had four shooters in double figures: Quad-Captain (QC) Kyle Gunter (23), QC P.J. Ubides (20), sophomore Austin Horton (13) and QC Andrew Stauth (12).

'Birds will be at Cortez, Dec. 10, before giving a big Friday night welcome to the Thunderbird Chiefs.

C'mon, student Falcons! Double the ranks of "The Birdcage!" Principal Steve Bebee and Athletic Director Leonard Suarez are cuttin' you all the slack you need to have a great Falcon Pride time!
Meet 'Tyler The Terrible!'
By Pete Mohr | December 9, 2009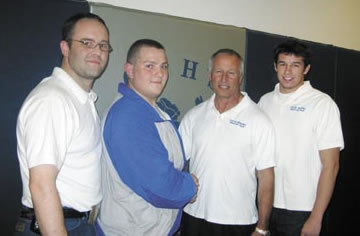 He was an audience-popular finalist at Homecoming's "Mr. Cactus Shadows" competition. One month later, as a Falcon defensive tackle, he made a one-handed stab for an interception against (Tucson) Sahauro that's destined for the 2009 season's "Highlights Film."
Now he gets a welcoming handshake from Head Wrestling Coach Merle Nelson, attended by assistant coaches Adam Nelson (far left) and Zack O'Kane, CSHS '07. Coach Merle Nelson to Sonoran News: "For three years now, I've been trying to persuade him to wrestle: this season, he finally came out!"
On Dec. 3, "Tyler the Terrible's" home mat debut against Williams Field was thwarted when the Blackhawks fielded no entry in the heavyweight class. You can next catch this good-humored (especially about himself) Falcon favorite at the CSHS Invitational (Blue Gym), Dec. 18-19.
Photo By Pete Mohr