It's a "Cowboy Christmas" at Cave Creek Museum!
December 2, 2009
Children's program set for Sunday, Dec. 6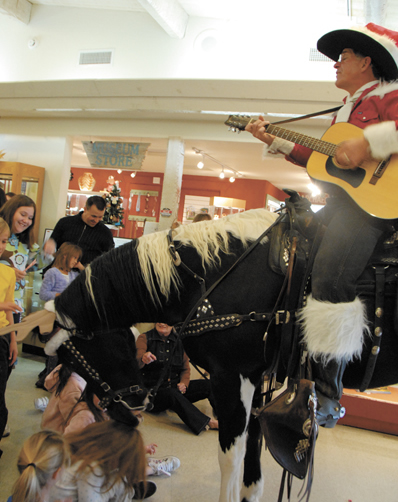 CAVE CREEK – Cave Creek Museum is ringing in the holiday spirit this December by hosting a special children's program, "Cowboy Christmas," on from 1:30 – 3:30 p.m. on Sunday, Dec. 6 at the museum. Located at 6140 Skyline Dr., Cave Creek Museum features an extensive collection of prehistoric and historic artifacts that describe the lives of Native Americans, miners, ranchers and pioneers. The museum hours are Wed., Thurs., Sat. and Sun. from 1 – 4:30 p.m., and Fri. from 10 a.m. to 4:30 p.m. Entrance fees are $3 for adults, and $2 for seniors and students over age 12. Group tours: $2 per person.
This year, to celebrate Cave Creek Museum's 40th anniversary, "Cowboy Christmas" will have more Western-style holiday crafts, games, and cookie decorating. Gary Sprague, "Arizona's Singing Cowboy," and his horse, Dusty, will perform. Fun activities include stick horse races, cow chip throwing, horseshoes, and "pin the hat on the cowboy." Children will make a boot stocking, "brand" their own bandana, and create a straw painting. "Cowboy Christmas" is for both cowboys and cowgirls of all ages. The event is free with advanced reservations. Space is limited. Call 480-488-2764.
For information about Cave Creek Museum and its programs, call 480-488-2764, or visit
www.cavecreekmuseum.org
.