Fifteen fantastic ways to manage your money during the Holidays!
Kathy Radina, M. Ed. | November 25, 2009

Oh don't be so skeptical. I have done a little research, and here is a list of the top suggestions I found for managing money during the holidays. And I'm even willing to acknowledge that in spite of the fact that the stock market stinks, the economy is in trouble and many of us have lost our jobs; the desires of our children haven't seemed to slow down one bit. They still want things bless their little hearts, and we want to give them things. Here are my tips. More...


Senior living at its finest at Baptist Village
By Marielle D. Marne | November 25, 2009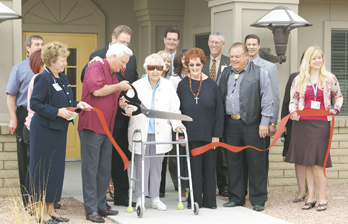 PHOENIX – It's a new trend and it was introduced to the public on Nov. 14. Arizona Baptist Retirement Centers hosted an open house, complete with ribbon cutting, for its newest Green House® assisted living residences off Cave Creek Rd. in the northeast valley. Three units, looking much like typical housing, offer homes to 10 residents each.

"Many people find it troubling looking for the right kind of environment for their senior family member," explained Wynne Angell. "These residences have come a long way from what we used to think of as nursing homes or senior centers. It's essentially a big house, 7,000 square feet, with full service amenities. It's very personalized. For instance, if a woman likes to cook, she can help out in the kitchen."

The homes include a large family room each, along with the kitchen, dining room and private suites. Residents are encouraged to partake of social activities as one of the focuses is on memory care. For those who may have relatives with dementia or Alzheimer's, the Baptist Village residences may be exactly the answer you are seeking as far as assisted living is concerned.

While the trained caregivers excel at providing a stimulating and healthy environment, they can also assist with the challenges of daily living - bathing, dressing, dosing of medication. However, the resident is in control. "They decide what they eat, what time they go to bed and get up, what kind of social activities they participate in," said Donna Taylor, executive vice president.

With an aging population, Arizona Baptist Retirement Centers are certain to be well received. The facilities are expanding, and currently there are four campuses with more than 600 units in Arizona. The newest is located at 20802 N. Cave Creek Rd. In addition to the exciting opportunities and advanced memory care expertise inside the residences, a community van is available for jaunts to Desert Ridge eateries and shopping and/or for doctors' appointments.

This could be exactly what you've been looking for in your retirement years! For information, call 602-569-0508 or visit www.abrc.org.