Arizona Festival of Horses at WestWorld, Friday, Dec. 11 – Sunday, Dec. 13
November 25, 2009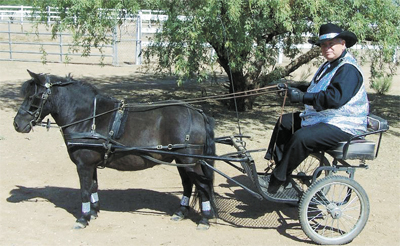 SCOTTSDALE – The Arizona Festival of Horses is at WestWorld in Scottsdale Friday, Dec. 11 – Sunday, Dec. 13. The Arizona Festival of Horses is a three day horse fair and exposition, for horse owners and horse enthusiasts, featuring world-class clinicians, breed and stallion demonstrations, lectures and demos on horse related topics, a trade show in time for Christmas shopping, riding clinics with top clinicians and the first ever Draft Horse Competition. In addition, Equi-Dance features two dynamic shows of action-packed equine entertainment!
New for this year is the first ever showing in Arizona, the Draft Horse Competition, a fun event of horse and driver skills. Watch the riders compete for first place in a wide variety of classes. This show is sure to be a favorite at the festival year after year as these gentle giants show their unbelievable power and strength.
Next we will be having the Queen Valley Ranch Mule and Donkey Competition. This year, a special twist to this competition will be the "Pack Scramble." Experience the fun of seeing several mules turned out into an arena where the cowboys must catch, saddle and run a course for first place!
The Breed Showcase is one of the most popular events at the festival. Each showcase has a hospitality area and stalls for the public to come after each arena presentation to see the horses and have the opportunity to talk to the owners. Many of these horse and riders are in native costume and ride to music.
Horse owners, bring your horse and ride in the Al Ragusin collection clinic. Al will teach you how to collect your horse in one hour. This is a free clinic so sign up today.
A New and up and coming sport in the equine industry is Horse Soccer. This year the Rancho de LaDama Soccer Team will be hosting a soccer match at the Festival of Horses!
Back by popular demand: we will be hosting the Great American Trail Competition. Come show off your skills with your horse or just come enjoy the challenge the trail course presents for the horse and riders! This is a growing sport across America.
Then on Saturday evening or Sunday afternoon watch "Equi-Dance," which is a fantastic equine entertainment for horse lovers of all ages! Al Ragusin will entertain you with his dancing horse! And the thrills mount with the Golden West Cowgirls performing. Back by popular demand are the beautiful draft horse hitches and by contrast, the Arizona Mini Mystiques will present a drill to music. You won't want to miss the Mounted Patrol Formation Drill. What a sight to see! This, and so much more, makes "Equi-Dance" a must see.
The equine trade show offers commercial booths selling a wide selection of saddles, jewelry, clothing, equipment, gifts and countless products and services for horse fans.
Event hours for the Arizona Festival of Horses are Friday Dec. 11 from 10 a.m. – 7 p.m.; Saturday, Dec. 12 from 10 – 5 p.m.; and Sunday, Dec. 13 from 10 – 5 p.m. One admission ticket provides access to all daytime events including clinics, breed demonstrations, lectures, the trade show, and more.
Daily admission is $10 for adults; Children 6 years to 17: $5; Children 5 and under get in free. Weekend and combination discount passes are also available. Equi-Dance is presented on Saturday night at 6 p.m. or Sunday afternoon at 4 p.m. Adult tickets are $10, children 6-17 years $5, 5 and under are free.
Attendees of the Arizona Festival of Horses are encouraged to purchase tickets in advance, for easy entry into the festival. At the event, cash only will be accepted for tickets.
For more information, or to purchase tickets for the Arizona Festival of Horses, go to
www.festivalofhorses.com
or call 602-354-4675.