WWP Soldier Ride highlight of Bicycle Festival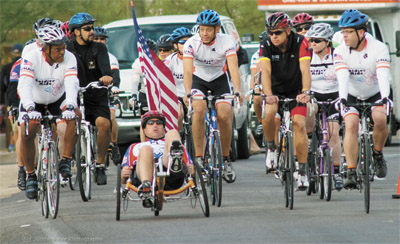 Many Cave Creek residents lined Cave Creek Road Saturday morning to cheer on the Wounded Warrior Project Soldier Riders and thank them for their service.

The Soldier Ride is a rehabilitative cycling event designed to challenge wounded warriors to get back in the saddle, both literally and figuratively. It also is a tool to help heal both the physical and mental wounds of war.

Many of these men and women have been physically active throughout their lives and are not going to lose that. They are going to get on the bike and prove to themselves 'I can still do this.'

These wounded veterans are the embodiment of the spirit of this country and they should make us all proud to say we are Americans. These rides also raise awareness for the Wounded Warrior Project mission and its many important programs designed to serve injured soldiers and their families, and in turn raise money through sponsorships, pledges and donations. WWP is a non profit organization.

For information visit www.woundedwarriorproject.org.

To view a slideshow, click here.

Courtesy Photo/Fisheye Photography

Bicycle Festival a hit, sign ordinance not
By Linda Bentley | November 18, 2009
'They don't call it Hidden Valley for nothing'
CAVE CREEK – During Call to the Public, Assistant Utilities Manager Mike Rigney reported, "The inaugural Bicycle Festival went off without a hitch," and read to council some of the comments people left on its Facebook page.

Rigney said there were 90 volunteers, 320 registrants and "Buzz for this is all over the country now."

MORE ...





Trenk resolution cited as serving no real purpose
By Linda Bentley | November 18, 2009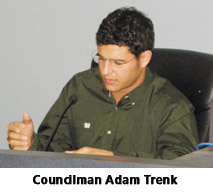 'I'm dead in the water anyway. I'm not going to grovel.'

CAVE CREEK – Councilman Adam Trenk made the request to have the second item placed on Monday's agenda; a resolution adopting a "Notice to Prospective Residents and Developers" from the Town of Cave Creek to prospective residents and developers, recommending disclosure of the unique land ordinances and attributes of Cave Creek.
MORE ...
Golf game on hold
November 18, 2009
Ed Sambuchi was playing golf at The Boulders Saturday, Nov. 7 when a herd of javelinas crossed the fairway. A male, female and two babies stopped so the babies could nurse, holding up their game for a while.

Courtesy Photo