Desert Foothills Christmas Pageant Saturday and Sunday,
Dec. 5 – 6 at Spur Cross Ranch
November 11, 2009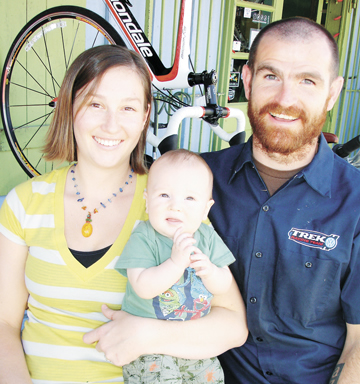 The Desert Foothills Christmas Pageant was started by the local 4-H Club in Cave Creek in 1952, as a re-enactment of the Christmas story showcasing the 4-H Club members' animals. The tradition continues Dec. 5 and 6, 7 p.m. at Spur Cross Ranch Conservation Area in Cave Creek.

Area residents perform in the choir and in pantomime, with majestic-voiced narrator Bob Hutson presiding.

Volunteers handle all aspects of the Pageant, from ground prep, sound tech and sets, to luminaria placement and critter coordination.

Admission and parking are free. Because there is no built-in seating, bring a blanket to sit up close on the ground or a portable chair. Wear warm clothes and walking shoes. A flashlight is useful because the Spur Cross Ranch is lit primarily by the moon and stars.
Spur Cross Ranch Conservation Area is located approximately 35 miles north of central Phoenix. From the intersection of Carefree Highway and Cave Creek Road head north on Cave Creek Road about 2.5 miles to Spur Cross Road. Turn north for approximately 4.5 miles to the public parking area. After 3 miles the road turns to all-weather graded.

For more information or to volunteer at the Desert Foothills Christmas Pageant, call the Foothills Community Foundation at 480-488-1090.
Cave Creek Merchants!
November 11, 2009


Come to the After Dark that will take us into 2010!

Topic: "2010 Planning Meeting"
Date: Wednesday, Nov. 18 at 6 p.m.
Hosted by: Cave Creek's Most Wanted
Location: 38424 N Spur Cross Road, #111

Cave Creek Merchants Chamber of Commerce wants to know how we can better support YOU. With this in mind, all Cave Creek merchants are invited to the November After Dark "2010 Planning Meeting."

The Chamber is here for you and needs your input in order to make 2010 the best year ever for merchants, the town of Cave Creek and the Chamber too! Please come to the November meeting of Cave Creek After Dark with answers to the questions below.
Can't make it? We still want your input! Please go to the Chamber site to send us your responses: www.cavecreekchamber.org

1. What events would you like the Chamber to create or support?
2. What types of marketing and advertising would you like from the Chamber?
3. What would you like to see included on the Chamber website?
4. What information can the Chamber provide that would help your business?