Laughing Matters
Bad medicine, or is it really?

By Charles Marshall | November 11, 2009

I couldn't find one of my old bottles of prescription pills the other day so I asked my wife if she knew what happened to them. She told me that she had thrown them away. When I asked her why on earth she would do such a thing she told me she had gotten rid of them because the expiration date had passed.

That's right. Just because the expiration date had passed. Have you ever heard of such a ridiculous thing in your whole life? More...
Ribbon Cutting of the Grand Opening of The Village at Mayo Clinic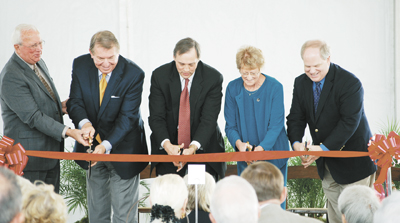 PHOENIX – The American Cancer Society is proud to announce the Grand Opening of the first Hope Lodge in the western portion of the United States.
Hope Lodge is located within the Village at Mayo Clinic, in partnership with the Arizona Transplant House, on 56th Street and the 101 in North Phoenix.
This home away from home provides cancer patients in active treatment and one caregiver, traveling at least 50 miles from their home, the opportunity to stay during their time in the Valley. This service is provided to any cancer patient and a caregiver at no cost.
For more information call 1-800-227-2345 or log onto
www.cancer.org/hopelodgenorthphoenix
.