Falcons (#2) host Tucson's Sahuaro (#15) in State 1st Round
By Pete Mohr | November 11, 2009
Classen's two 4th quarter TDs seal 10-0 regular season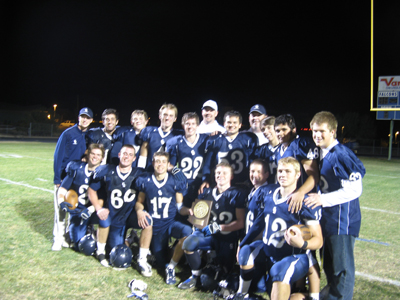 FALCON STADIUM – At 3:31 of the 4th quarter, second down and a long three from the CSHS 30, Falcons are up on the McClintock Chargers by only a scary two points, 21-19.

Quarterback Dillon Classen explodes off left tackle into the Charger secondary, kicks in his afterburner, and is g-o-n-e for six! Bryce Redmond boots the point after toward Carefree Highway, and the Falcs are breathing easier at +9. Classen did it again, this time a 15-yard sprint around left end, untouched, with 1:41 left. "The Cuke" (Redmond) converts. Let the 10-0 perfect season celebration begin!

But not before linebacker Jake Krum's one-handed INT at 11:38 put a senior's "just-right" touch on "Senior Night!" Krum had another big play, cleanly blocking the Chargers' P.A.T. attempt after the visitors had scored first at 3:40 of the opening period. Krum and Classen (with three touchdowns for the night) were Head Coach Chad DeGrenier's game ball winners.

Joree Schneider scored the go-ahead Falcon TD (a 28-yard strike from Classen) at 3:12 of the 2nd period; and his speedy 44-yard punt return to the Charger four set up Quad-Captain Zack Sexton's touchdown sweep at 5:27 of the 3rd.

So it's onto the State Playoffs, with the Desert Sky champs holding a #2 seeding to host the #15 (Tucson) Sahauro Cougars (4-6).

"Crow" sees these Falcons as loose and ready, say, 45-14; but the Nov. 20 Quarterfinals won't be easy, even at home vs. the winner of #7 (Tucson) Sabino - #10 Raymond Kellis. But first, 'Birds, you gotta "Cage them 'Cougs!"
CC Girls' Future is now!
By Pete Mohr | November 11, 2009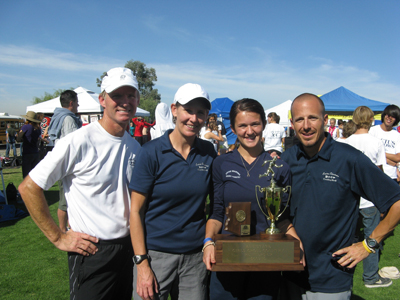 Post-race, as the celebration of Girls Cross Country's second place finish (behind champion Nogales and solidly ahead of Tucson Sabino) jubilantly swirled around her, Head Coach Patty Egan confided to Sonoran News, "You know, for all of your seven entries to run their best races of the season at the State Championships is pretty close to unheard of; but that's what these girls did. My coaches and I couldn't be prouder of them!" Most readers know that in Cross Country competition you run six, scoring your top five. Of the Lady Falcons' seven competitors at last Saturday morning's State Championships at Cave Creek Golf Course, four (with finishes in parentheses) were freshmen: Terri Baker (4th), Dani Zalewski (6th), Melissa Nelson (21st) and Mackenzie Brown (50th); one sophomore, Savannah Alexander (64th); and two seniors, (Jesse Hass (7th) and Kelsey Nigbur (51st). An outstanding performance, Ladies! Congratulations!
Boys posted two medalists (top 28 finishers): seniors Austin Miles (9th) and Alex Kaufman (28th). Miles' time was 20 seconds faster than his 2008 4th place finish, indicative of the higher level of competition in this year's race. Well done, Falcon Harriers!