Saddle up for the 7th Annual Cave Creek Wild West Days
November 4, 2009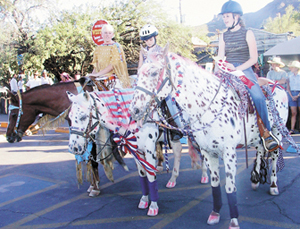 Thursday – Sunday, Nov. 5 – 8
CAVE CREEK – The 7th annual Cave Creek Wild West Days event is a festive weekend coordinated by the non-profit Cave Creek Chamber of Commerce. Admission is free.
Events include The Wild West Days Lucky 13 Poker Ride, the First But Annual Boot Race, a Rat Rod Car Cruise/Show, The Thieves Market, Artist Shows and a multitude of other events being put on by the individual business owners throughout the town of Cave Creek.
Best parking option: Boy Scout Troup #603 fund-raiser parking lot off of Schoolhouse Road: Cost is $5 per vehicle.
For more information visit www.CaveCreekWildWestDays.com or call 480-437-1110.
Courtesy Photo

In the tank for Cactus Shadows Booster Club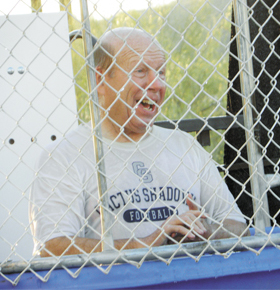 Cactus Shadows High School Principal Steve Bebee (r) and Sonoran News sports reporter Pete Mohr showed what good sports they were as they were dunked repeatedly as part of a fundraiser for the Cactus Shadows High School Booster Club at Valerie's Furniture and Accents during Cave Creek Wicked on Halloween.

Photos by Linda Bentley

Bicycle Festival for open space, special events for any reason at all
By Linda Bentley | November 4, 2009
State shared revenue distribution estimated at $151K less for 2011
CAVE CREEK – Assistant Utilities Manager Mike Rigney did a presentation of the inaugural Bicycle Festival, detailing the various events and activities planned throughout the weekend for the next open space fundraiser.
MORE ...
Sorchych and Fenger win 'Best Column' awards
November 4, 2009
Don's editorial won first place for "Best column, analysis or commentary," for non-daily circulation greater than 10,000 newspapers, while Becky won third place. The 2009 Better Newspaper Contest was sponsored by the Arizona Newspaper Association and judged by the Mississippi Press Association. Both articles are reprinted in this week's issue.
"My View" by Don Sorchych
"Fenger Pointing" by Becky Fenger

Hitchon still running high on 'fantasy'
By Linda Bentley | November 4, 2009
CAREFREE – Planning Commissioner Lyn Hitchon has decided to take on history and Rod de Szendeffy with her Oct. 31 edition of "Carefree Truth," Issue #19 of her e-mail newsletter, by countering Channel 3 TV's statement on Oct. 26 that de Szendeffy was one of the founders of Carefree 25 years ago.
MORE ...
Queen of Mean
November 4, 2009
Alice Kunka (l), agent and manager of the Farm Bureau Insurance office at Las Tiendas, was crowned Queen of Mean at the first annual Cave Creek Wicked Halloween festival.

She impersonated Eva Duncan, the last woman to be hung in Arizona, who was decapitated in the process.

Runner-up was Kim Reagen, owner of Cave Creek Candles & Gifts, whose incredibly detailed CC Wicked witch costume scored high with the judges.

The contest was held Saturday, Oct. 31, at Carefree Consignment Boutique in the Village Center.