Cave Creek, Prescott merge for greatest art show of all
By Marielle D. Marne | November 4, 2009
PRESCOTT – Arizona is a wonderful artists' paradise. Vistas of beauty span from the breathtaking Grand Canyon to Cave Creek's Elephant Butte to Prescott's Granite Dells and beyond. And whether it be with paint, charcoal, watercolor or less conventional means, artists have forever immortalized the landscape of this great state as well as those beyond its borders.


Currently, the Phippen Museum in Prescott is hosting an exhibition appropriately called The Greatest Earth on Show, thanks in part to Blue Coyote Gallery's Gary Fillmore. In addition to tending to his own Cave Creek gallery for the last eight years, Fillmore manages the collection owned by David and Doreen Picerne. More than two dozen of the Picerne's paintings are on loan and are showcased right now in the Phippen. The collection is not only appreciated for its creativity but also for the fact that it archives history.

Deb Bentlage, curator and collections manager of the Phippen, offered, "The collection for the Greatest Earth on Show was brought together by a conversation between Gray and myself. It's an eclectic group of artists with something for everyone." Clearly, the efforts of those at Blue Coyote were instrumental in making this event happen.

From now until Feb. 21, 2010, over 40 notable landscape artists-both contemporary and traditional-will have their works on display. Some of those will include G. Russell Case, Williamson Tapia, John Henry Waddell, and specifically, Near Sedona by James Swinnerton and Starlight Sonata by John Hilton, courtesy of the generous donation of the Picerne family.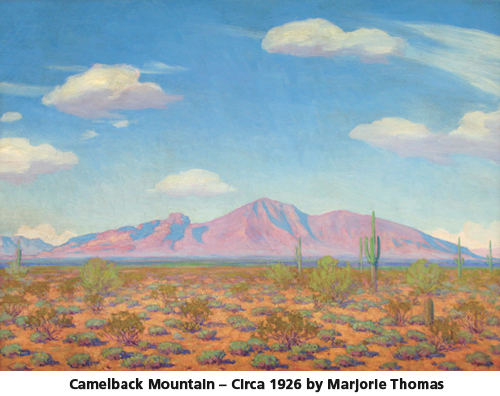 Embarking on a second career, Fillmore has immersed himself in art. Along with Blue Coyote and managing the Picerne collection, he finds time to write books! He's currently working on his third, The Artists of Kayenta, slated for a late 2010 release. There will be an upcoming exhibition in Oklahoma's Woolaroc Museum as well that Fillmore is planning.

Though his many endeavors keep him busy, "I'm having the time of my life," he assured.

And his efforts have not gone unnoticed. "We are very appreciative of Gary and the Blue Coyote for making the connection with Phippen and the Picernes," said Bentlage.

But, go see for yourself! The Phippen is roughly an hour drive from the Desert Foothills. It's a wonderful day trip with art, culture, history and outdoor activities. For those who wish to venture north, the Phippen Museum is located at 4701 Hwy. 89 North. For hours visit their Web site at www.phippenart museum.org.

Blue Coyote Gallery is located at 4161 E. Cave Creek Rd. in Cave Creek. Additional information may be found online at bluecoyotegallery.com.

Scottsdale Artists' School benefit on Saturday, Nov. 14
Beaux Arts 2009 to feature silent auction of paintings and sculptures from renowned artists

Event: Scottsdale Artists' School 17th annual "Beaux Arts" reception and silent auction
Date: Saturday, Nov. 14
Time: 5 – 7:30 p.m.
Place: Scottsdale Artists' School
3720 N. Marshall Way, Scottsdale

SCOTTSDALE – Scottsdale Artists' School is hosting its annual benefit, Beaux Arts, Saturday, Nov.14.

The Beaux Arts 2009 Signature Artist is Leslie B. DeMille. Mr. DeMille, who lives in Sedona and has been commissioned to paint portraits of President Ronald Reagan, Frank Sinatra, Bob Hope and many other famous people, has taught at the school every year since it opened in 1984.

"This year the cocktail reception and silent auction of approximately 200 original paintings and sculptures by nationally recognized artists will be the best ever," said Beaux Arts chairman, SAS board member and resident of Litchfield Park, Mary Lueck. "Patrons will enjoy an exciting Quick Draw in three studios, the popular Trips and Treasures Boutique, great food, wine and music. It's an irresistible combination." A selection of juried paintings done by some of the school's best students will also be a part of the auction fun.

A highlight of the evening will be the raffle of the sculpture, "Pow Wow Partners" (#50 of 50) by John Coleman, president of the Cowboy Artists of America.

For ticket information and reservations, call 480-990-1422.

Beaux Arts is an annual fundraiser for the Scottsdale Artists' School. Funds raised will help the school continue its Youth Academy, provide scholarships to deserving students of all ages, offer workshops and weekly lessons given by nationally recognized artists and increase the interest, awareness and knowledge of representational visual art.

For more details about the Scottsdale Artists' School, go to www.scottsdaleartschool.org.