Turn a limping dog or cat into a leaping one
By Marielle Marne | October 21, 2009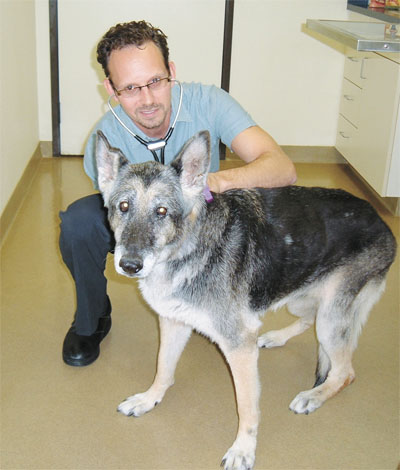 SCOTTSDALE – It's a marvelous day in veterinary medicine. Pima North Animal Hospital is one of the few veterinary clinics to offer a cutting edge procedure for dogs and cats for treatment of tendon, ligament and joint maladies. David Taetle, VMD has been trained through Vet-Stem, Inc., the sole provider of fat-derived adult stem cell therapy for pets.
Simply stated, Taetle explained, "We harvest fat from the animal, send it to the lab that isolates stem and regenerative cells, and an injectable form is returned in 48 hours. Then, we inject that into the joint and it regenerates and repairs issues like arthritis, hip dysplasia, and chronic joint pain."

It's truly a remarkable breakthrough and on average a 30 minute procedure to harvest the fat. Complications are few, with a nominal percentage of four-footed patients experiencing inflammation as the sole side effect. All pets are given a thorough exam to determine if they would be optimal candidates for the therapy.

Taetle said that tendon, ligament and arthritis issues are the number one problem facing senior and athletic pets today. And this stem cell therapy can literally give a companion animal its life back. Following the treatment, 75 percent of pet owners have seen improvement in their pets' quality of life. Results can be witnessed in as few as a couple of weeks. There is hope to turn a limping dog or cat into a leaping one!

To learn more about this technology and the Pima North Animal Hospital, Taetle, along with Drs. Bonnie Walker and Deb Scharrer, invite neighbors and pet lovers to the second annual Fall Festival on Nov. 14. This pet expo will play host to area rescue groups, including Southwest Wildlife, training and product demos, reduced prices on pet necessities and more.

The event will be held at 8864 E. Pinnacle Peak Rd., Bldg. K, Ste. 1. Phone 480-563-5432 for details.
Designers day spas are not just for humans
Treat your pet to a designer coat for the holidays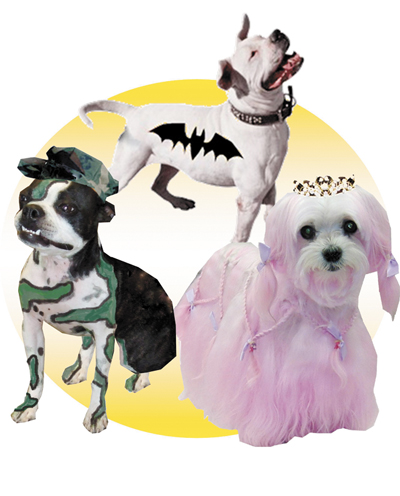 CAVE CREEK – Tender Paw Day Spa, a department of Animal Health Services, offers canine and feline grooming, therapeutic spa services, fear and trauma recovery, elderly pet care, and specializes in managing allergic and dermatological disorders. However, did you know their formally trained pet aesthetician and pet stylists are capable of designer pet styling and coat coloring too?

The pet stylists at Tender Paw Day Spa treat grooming as an art and skill. They always take into consideration the feelings and fears of the four-legged "children" they are caring for while performing styling and coat design services.

By taking your pet's age, temperament, past trauma, and emotional state into consideration they can design the perfect style, coat design, or therapy process that fits your pet's needs.
As this is the policy, all designs are completed by using only the best organic vegetable dyes or non-toxic temporary tints to safely model your pet's coat to reflect the festive nature of the holidays. Imagine guests arriving to your holiday party only to be greeted by your excited trendy furry family member. Some of the longer haired pets can receive designer braiding and styles that give your little prince or princess fashionable features.
Michelle Knowles, Spa Director for Tender Paw Day Spa trained with Monica Van De Ven, a founder, teacher and worldwide consultant for the Iv San Bernard School in Tuscany, Italy.

Michelle has an ISB certification in skin and coat care, extensive experience with fear and trauma recovery, elderly pets, and a focus on managing allergic and dermatological disorders.

"You can take comfort knowing your pet receives the utmost care." says Michelle, "Through the use of Iv San Bernard, (ISB) nature-based, shampoos and balsams, we can administer proper skin and hair care for pets on a whole new level."

For a free consult or for more information about pet coat designs with Michelle call Animal Health Services at 480-488-6181 or for information about custom styling or to see some amazing before and after pictures visit www.azpawspa.com or e-mail info@azpawspa.com.