'Birds frustrate big, bad Sabercats! Sexton, Murphy lead team to 7-0 mark
By Pete Mohr | October 21, 2009
Blocked extra point is difference in last-minute thriller!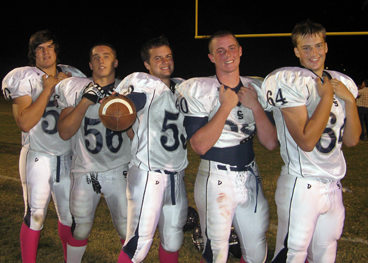 SCOTTSDALE – "Block that kick! Block that kick!" urged Cheer and Pom, with Falcon fans responding as one! And with only 0:39 remaining in regulation, Falcs up by one point, 21-20, Quad-Captain Tommy Murphy saved the biggest win of the season by denying the 'Cats P.A.T. with a leaping block off his left forearm!
Postgame, Murphy, the most modest of young men, to Sonoran News: "Tyler (Souva) and I put on a big rush up the middle. Their center sort of got under me, so I leaped as high as I could. It looked like the ball was kicked a little low. I saw that I had a good shot at it and was able to block it off my left forearm. If I hadn't blocked it, I believe Tyler would have." Murphy's block, for sure, will go down in Falcon Football history!
The Falcs gashed the "three-peat" State Champs for 220 yards rushing, with Quad-Captain Zack Sexton blasting for all three CSHS touchdowns. His night's work? Twenty carries for 120 yards. Quarterback Dillon Classen threw only ten passes, but flawlessly directed the Falcon ground attack.
The one-point thriller puts the HomeBirds (2-0 Region, 7-0) in the driver's seat to win D-Sky – and finish the regular season a perfect 10-0. (1-6 ) Sunny slope [Oct. 23], (5-2) Queen Creek [Oct. 30] and (3-4) McClintock [Nov. 6], all coming to Falcon Stadium, stand in their way. Watch out, 'Birds! Three hungry teams, each lickin' their chops to hand the "Cake-Eaters" (as CSHS is derisively known in some quarters) their first defeat.
Posted in the Falcons' home locker room are Coach D.'s easel exhortations saved from the August 15 team-bonding Saturday: "Have fun! Fill the Seats! Protect the 'Nest'!" Fans, "Crow" is "going all in" that the Falcs are gonna do just that, starting with a 48-14 blow-out of 'Slope, recently fallen on hard times. Be in the West Stands Friday evening to give these 'Birds a "Falcon Pride" welcome home!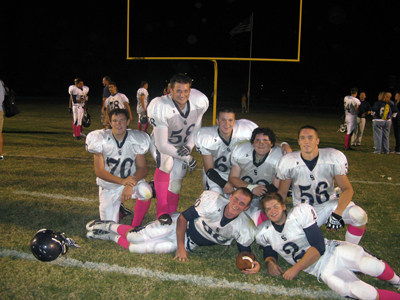 FalcFin seniors to Regionals!