Falcs mine 35-28 gold at A.J.; Classen, Murphy pace sixth win
By Pete Mohr | October 14, 2009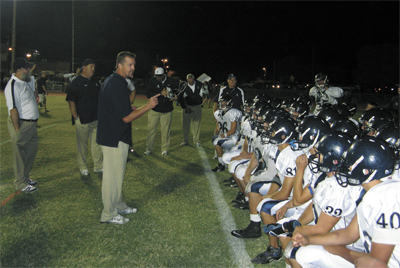 'D's' stop preserves upset victory
APACHE JUNCTION – The Falcons, like the (late) Rodney Dangerfield, "don't get no respect!" – at least, not from The Arizona Republic. Last Friday, picking A.J. over CSHS, The Republic's writer dismissed the Falcons' 5-0 record as the work of "smoke and mirrors."

Dillon Classen (23 completions of 35 attempts for 302 yards, four touchdowns, no INTS) and Quad-Captain Tommy Murphy (12 key receptions for 218 yards, two touchdowns) provided all the "smoke and mirrors" the #3-ranked Falcons needed, as the 'Birds characteristically toughened up in the 4th quarter to upset the #2-ranked Prospectors, 35-28, deflating a Homecoming crowd at A.J.'s Davis Field. Wide receiver Brady Dombrowski and running back Zack Sexton (2), yet again a workhorse on both sides of the ball, notched the other three Falcon TDs. Bryce Redmond was five-for-five on points-after.

The big win moved the Falcons to 6-0 – and #2 in A.I.A. Power Points going into Friday's Oct. 16 show-down at Saguaro. The "three-peat" State Champs, embarrassed 44-0, Oct. 2, by Canyon del Oro, took it out last Friday night on Moon Valley, 61-17, moving up from #6 to #5. Tucson area schools C.D.O. (#1), Cienega (#3) and Sabino (#4) round out the top five.

The Sabercats will have two important players serving the last of a three-game suspension for a violation of team rules. If the full-strength 'Birds are to beat the big, bad 'Cats, they'll have no better opportunity than this Friday night, 7 p.m. kickoff.

After spotting the Prospectors an early TD, the Falcons struck for three unanswered scores; muffed an opportunity (off a Tyler Souva fumble recovery) to put the 'Spectors away; led 28-14 at the break, thanks to a touchdown-saving tackle by Max Gersh on A.J. standout Nate Scola's third breakaway; sleep-walked (and unsuccessfully gambled), allowing a momentum-shifting 28-28 tie at the end of three; then mounted a 65-yard, ten-play drive capped by Sexton's three-yard, second effort over right guard to retake the lead at 1:31 of the final period.

Back came A.J., moving from their own 31 to a 1st-and-10 at the Falcon 26. Up rose "The Bradshaw Bad-Asses," stuffing two running plays and hurrying a 3rd down incompletion, thanks to a furious rush by Souva and Cam Larson. Time out, Prospectors: 5:14 to play. DT Joey Hughes broke through to make what turned out to be the game-clinching play, batting away the 4th down pass attempt. Prospectors would not touch the ball again.

Postgame, Coach D. was congratulatory – but frustrated: "Championship teams put away an opponent when they have a chance to do so. You guys have got to commit to playing four quarters of consistent football."

With six wins, the Falcons are assured a State Playoffs berth. Congratulations! Now they're shooting for an undefeated regular season, which would likely seed them not lower than their present #2. Seeds #1 through #8 play their 1st Round game at home, with the winners having a good shot at staying put for the 2nd Round quarterfinals. Semifinals are at a neutral site. This season, the State Championship finals move to Arizona Stadium (U of A).

But first comes Saguaro. "Crow," with fingers crossed, is sticking with the HomeBirds, say, 20-14. Hey, Guys, I'm six-for-six. Don't fail me now!
Austin Miles' home course record highlights X-Country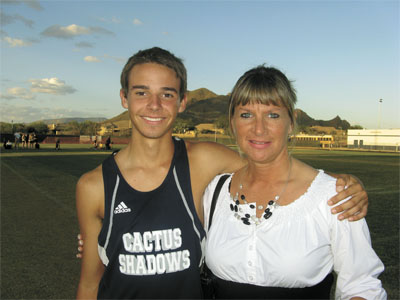 FALCON STADIUM – Cross Country records are set to be broken; and what better time for Boys Captain Austin Miles to break Cactus Shadows' home course record than "Senior Day," Wednesday afternoon, Oct. 7? As Miles, with no other runner in sight, strode into the final two turns at Falcon Stadium, the crowd, anticipating an outstanding time, loudly cheered him on to the finish line. He didn't disappoint, setting a new record for the 3.1 mile course of 16:03, breaking Tyler Raspiller's (CSHS '05) old mark by two seconds. Congratulations, Austin!

Racing in a quad-meet against Desert Sky rivals Saguaro and Apache Junction, with Seton Catholic also competing, both Falcon Boys and Lady Falcons finished 1st. Senior Jesse Hass's 2nd place led the Girls squad.

The afternoon's only disappointment was that longtime Head Coach Patty Egan, at home recovering from a lingering respiratory illness, could not be present. In her absence, Assistant Coach Geoff Johnson enthusiastically emceed the honoring of Cross Country's seniors and their family sponsor(s). Ideal Cross Country weather added positively to the celebratory late afternoon.




In alphabetical order, Sonoran News congratulates Cross Country's seniors (with family sponsor(s) in parentheses):
Mackenzie Abernethy (Jeff Abernethy and Stefanie Sweeney)
Michelle Abou-Eid (Eli and Fadia Abou-Eid)
Chelsea Ferguson (Charles Ferguson)
Brennen Guy (Christopher and Marissa Guy)
Jesse Hass (Madeline Hass)
Courtney Johnson (Lorrie Johnson)
Alex Kaufman (Alex and Kathy Kaufman)
Brendan Kirby (Vincent and Dawn Kirby)
Haylee Korzendorfer (Paul and Debbie Korzendorfer)
Alex Lazo (Mark Lazo and Pam Lazo)
Austin Miles (Christina Miles)
Mat Nasr (George and Doni Nasr)
Kelsey Nigbur (Leonard and Susan Becker)
Keith Omundson (Peter and Debbie Omundson)
Daniel Pages (Orlando and Cindy Pages)
Sara Pousti (Zahra Pousti)
Molly Shoulders (Randy Shoulders)
Ryan Storck (Jennifer Raymond)
Follow the Falcons

Football:
VAR Fri., Oct. 16 at Saguaro 7pm
FR Wed., Oct. 21 at Prescott 4pm
JV Thurs., Oct. 22 Prescott 6pm (H)
VAR Fri., Oct. 23 Sunnyslope 7pm (H)
Volleyball:
FR/JV Thurs., Oct. 15 at Camp Verde 4/5pm
ALL Tues., Oct. 20 at Queen Creek 4/5/6pm
ALL Wed., Oct. 21 McClintock 4/5/6pm "Senior Night"
Cross Country:
ALL Sat., Oct. 17 at Dave Doerrer Invit. TBD, Mountain View Park - Scottsdale
ALL Wed., Oct. 21 at Tbird, w/Glendale, Dysart 4pm, White Tanks Park
Boys Golf:
VAR Fri.-Sat., Oct. 16-17 at Canyon del Oro Invitational; TBD
Girls Golf:
VAR Mon., Oct. 19 at Saguaro, w/Maricopa 3:30pm
Swim & Dive:
ALL Fri.-Sat., Oct. 23-24 REGIONALS; TBA (At McClintock)