Judith Durr: "Enduring Legacy"
October 7, 2009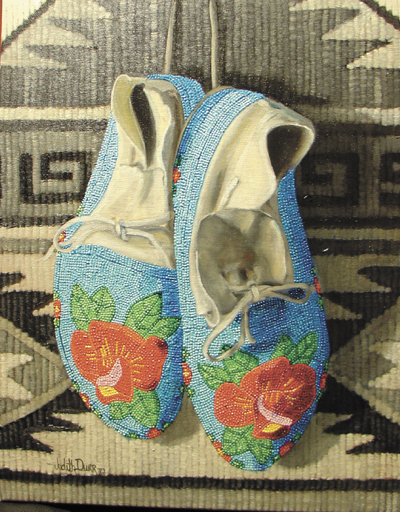 PRESCOTT – Sharlot Hall Museum presents an eighteen month exhibition, championing contemporary American Indian-art – art with the emphasis on contemporary. Four artists are offering original paintings and artworks that challenge viewers to rethink ideas, images, and stereotypes we form about what Indian-art should be. In keeping with the Museum's mission, the artists represent two Arizona Indian nations and two a desire to live in the Indian world of Arizona. Each artist dominates one of four segments of this exhibit in the John and Helen Lawler Exhibit Center.

Judith Durr's paintings make you wonder if you are looking through an open window, rather than at a painting. Indian-art objects as "still life" is Judith's special talent – an art of illusion with texture – creates a 12-layer wet on wet technique. This technique is why her paintings stand alone as "Enduring Legacies" that honor American Indian heritage.

"Painting can be taught, however, the gift of inspiration, dedication and passion come from within. Capturing the emotions of the viewer, wanting them to eagerly reach out and feel the fabric of the rugs, the beads on the moccasins, the smoothness of the pottery … is satisfying," says Durr.

This is the largest collection of Judith Durr legacy.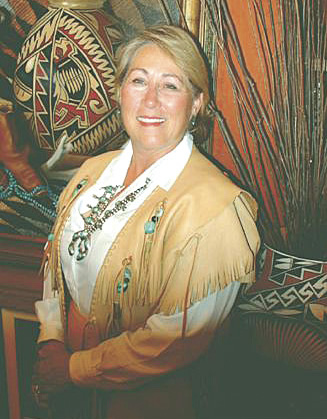 Second Exhibition in the Series PAINT! Breaking the Buckskin Ceiling
You are invited to the Opening Preview and Reception for Judith Durr:
"Enduring Legacy"
Friday, Oct. 16,
5:30-7 p.m.
Sharlot Hall Museum
Center Gallery
415 W. Gurley St. Prescott
R.S.V.P. by Oct. 9
928-445-3122 ext. 11 or
janice@sharlot.org.