Falcons brand "CSHS" on Mustangs! Start region play at A.J., Fri., Oct. 9
By Pete Mohr | October 7, 2009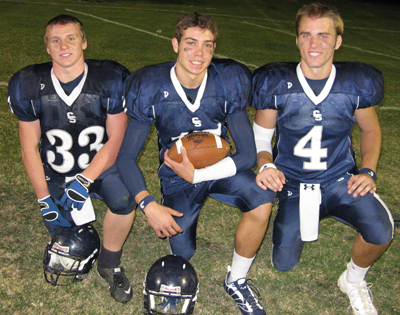 FALCON STADIUM – Remembered from 7th grade Social Studies: As Greeks marched out to battle, if an eagle flew to the left of their column, they took it as a bad omen and returned to camp. Late last Friday, the Sinagua Mustangs, en route by bus to Falcon Stadium, became ensnarled in a southbound I-17 traffic mess at Cordes Junction. Like the aforementioned Greeks, they should have turned around and gone back to Flagstaff. Unfortunately, they pressed on, delaying the start of their predictable fate by roughly 40 minutes.

After covering Sinagua's failed on-side opening kickoff at the home 42, it took the Falcons exactly 2:30 to blow the 0-4 Mustangs out of contention. Quad-Captain Tommy Murphy raced with quarterback Dillon Classen's first pass to the Mustang 22. Quad Captain Zack Sexton burst up the middle for six at 0:27! Bryce Redmond booted the first of his eight extra points.

With three Mustangs inexplicably standing with their heads who knows where, Brady Dombrowski covered the ensuing kickoff at the Sinagua 29. Five plays later, Classen "rewarded" him with a TD strike in the deep right corner. Redmond converted, 14-0 Falcons, only 2:30 gone. The rout was on.

A seven-yard swing pass to Murphy (4:21); Murphy's 42-yard runback of his seventh INT of the season (9:28); and Dombrowski's second TD reception (11:07) had the 'Birds flying away, 35-0, at the end of the 1st quarter. Dombrowski's third TD at 1:18 of the 2nd and Redmond's conversion started the continuous clock (the closest attempt in high school football to "mercy") running. Paul Walsh takes the QB controls and moves the 'Birds to the visitors' one. Sexton bulls over for his 2nd TD (8:13).

On the Mustangs' ensuing possession, safety Connor Dubin intercepted at the Sinagua 27 and sprinted untouched into the left end zone for the first touchdown of his career. Not so fast there, "Chair!" Quad-Captain Tyler Souva was flagged for a late block, cancelling Dubin's heroics. Souva, remorsefully to Sonoran News: "Dube's big moment, and I had to ruin it!" Commendably, Connor took his disappointment in good-humored stride. "Hey, it'll be on film!" he exulted to this writer.

At 2:55 of the 3rd, Classen hit John Leonard for 36 yards and the Falcs' final TD. It was Classen's fifth touchdown pass of the game. Redmond's 18-yard field goal (10:36) mercifully capped the CSHS scoring for the night. Late in the 4th quarter, defensive gems by reserves, safety Austin Stephens and lineman Cody Wendel, preserved the shutout.

Head Coach Chad DeGrenier, postgame to his squad: "You guys have finished the first half of your season, 5-0. That's a significant accomplishment – and with only one major injury (offensive lineman Alex Boat's season-ending knee injury suffered at Greenway, Oct. 11). That's huge!

Now, to win Region and take our best shot at State, we have to start all over." And they did, at 8 a.m. Saturday morning practice.
So it's on to Apache Junction, Friday evening, Oct. 9, first Desert Sky contest, against the 5-1 Prospectors, who, after an upset loss, 21-35, at Mingus, Sept. 25, were 42-36 spoilers of Greenway's Homecoming last Friday. A.I.A. ranks A.J. #2; Falcons, #3. Big, bad Saguaro, their 37-game win streak embarrassingly ended, 44-0, at (Tucson) Canyon del Oro, fell to #6. CDO now owns the #1 ranking.

Can the 'Birds claim the Prospectors? They have the "mo" – and proved in their tough victories over Cienega (away), on the road against Greenway (double OT) and Paradise Valley (double OT) that they play with "never quit" heart. "Crow" bets on that heart, seeing the Falcons coming from behind in the 4th quarter to strike gold, say, 34-31.
Band 'Excellent' at U of A!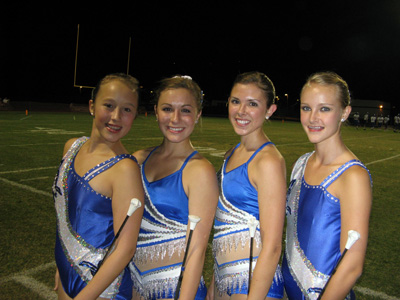 Follow the Falcons

Football:
JV Thurs., Oct. 8 Apache Junction 6pm (H)
VAR Fri., Oct. 9 at Apache Junction 7pm
FR Wed., Oct. 14 Saguaro 6pm (H)
JV Thurs., Oct. 15 at Saguaro 6pm
VAR Fri., Oct. 16 at Saguaro 7pm

Volleyball:
VAR Fri.-Sat., Oct. 9-10 at Goldwater Tourney TBA
ALL Tues., Oct. 13 Saguaro 4/5/6pm (H)
VAR Wed., Oct. 14 Page 5pm (H)
FR/JV Thurs., Oct. 15 at Campo Verde 4/5pm

Cross Country:
ALL Sat., Oct. 10 at Doug Conley Invitational @ Tempe Rolling Hills TBD

Boys Golf:
VAR Tues., Oct. 13 at Queen Creek w/A.J. 3:30pm
VAR Fri.-Sat., Oct. 16-17 at Canyon del Oro Invit. TBD

Girls Golf:
Monday, Oct. 19 at Saguaro 3:30pm

Swim & Dive:
Sat.-Sun., Oct. 23-24 Regionals TBD