Cave Creek Wicked – Where Halloween is perfectly uncivilized
October 7, 2009
Saturday, Oct. 31
Noon – 8 p.m. Halloween activities for the whole family
8:30 p.m. – 12:30 a.m. bar crawl, costume contest
Throughout Downtown Cave Creek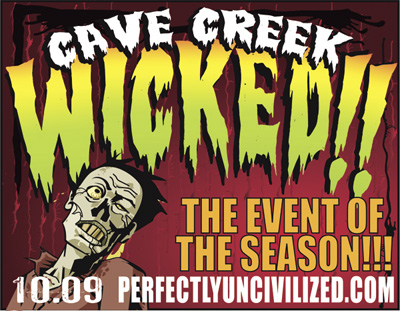 This Halloween, the town of Cave Creek gets "wicked" crazy with its first annual holiday event. Cody's Smokehouse & Grill will feature an incredibly terrifying "Death House" haunted house and five of the town's best restaurants will host a spook-tastic bar crawl featuring specialty themed cocktails including the Soco Zombie and Tuacca Lemon Drop, sponsored by Southern Comfort Spirits.
Guests are invited to hop on the complimentary "party" bus and cruise down the streets of Cave Creek stopping at popular locations such as Los Mesquite Taqueria, Cave Creek Coffee Company & C4 Martini & Wine Bar, Buffalo Chip, Harold's and the Hideaway (in that order). There will be chances to win cash prizes up to $2500 for best costume, most creative, sexiest, etc. at each location!

The town will also be adorned in festive decorations and individual holiday family activities will be available including: haunted houses, children and pet costume parades, a dunk tank, horse costume contest, pumpkin carving, mummy wrapping contest, psychic readings, Thriller street dances and more!

Transportation on the spooky bar crawl is FREE (!!)

Cody's Smokehouse & Grille "Death House" - $15 per person
Individual holiday activities and beverages available for purchase
For more information on Cave Creek Wicked please call 480-945-6333 or visit www.cavecreekcoffee.com or www.perfectlyuncivilized.com
Cave Creek Wicked Events
12 – 2 p.m.
Pumpkin flavored cupcakes at Oak's Diner and Flapjacks
Horse Costume Contest (2 p.m.) at Black Mountain Cave Creek Feed
Noon – 4 p.m.
Trick or Treat with the Fire Department and Sheriffs in the Document House parking lot
Halloween Howl (1 p.m. – 4 p.m.) Pet costume contest at Tycha's
Noon – 5 p.m.
Tonto Bar & Grill/Cartwright's Sonoran Ranch House (Twigs parking lot)
Hunka Pumpkin Carving – at Level 9 Gallery
Kids Costume Contest (4 p.m. – 5 p.m.) Frontier Town at Cave Creek Candles & Gifts
Noon – 6 p.m.
Crystal Ball Readings by a mystical fortune teller at Galeria Bellas Artes
2 – 6 p.m. Baked goodies for sale by Bella Vista School (Oak's Diner parking lot)
Noon – 7 p.m.
Mummy Wrapping every hour with prizes at The Antique Emporium
Leapin' Lizards Music by Dok & Gal at the Lazy Lizard (2 p.m. – 7 p.m.)
3 – 8 p.m.) Thriller Dancers and Dancing Lessons at the Lazy Lizard
Noon – 2 a.m. Chella's Chili Cook-off
Noon – 8 p.m.
Psychic readings in the pink bus at the Pink Cadillac
Cave Creek Carnival at Las Tiendas including mummy wrapping, inflatables and
games
Goulish Fun at Cosmopolitan Beads
Dunk Tank at Valerie's furniture by Cactus Shadows High School Booster Club
Dunk tank participants:
Eric Flatt Noon
John Kraetz 12:30 p.m.
Adam Trenk 1 p.m.
Mike Shaldjian 1:30 p.m.
Marc Peagler 2 p.m.
Steve Bebee 2:30 p.m.
Mayor Vincent Francia 3 p.m.
Dance coach 3:30 p.m.
Football coach 4 p.m.
Linda Bentley 4:30 p.m.
Rika Cuff 5 p.m.
Rick Swearingin 5:30 p.m.
Brad Booth 6 p.m.
"Not So Scary Haunted House" (for children ages 2-13 years)
at Rising Moon Montessori
Noon – 2 a.m.
BBQ sliders at Bryan's Barbeque
Margarita Garden, street tacos, and a real witch at El Encanto
Spooky Treats at Big Earl's Greasy Eats
MacDonald's Ranch Annual Pumpkin Patch Oct. 3-31
October 7, 2009
Open 7 days a week from
9 a.m. – 6 p.m.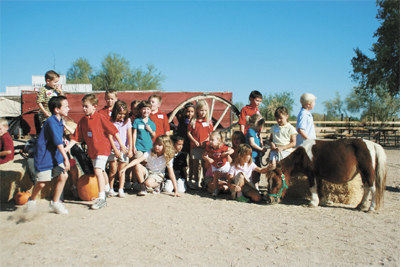 SCOTTSDALE – MacDonald's Ranch welcomes you to their annual Pumpkin Patch! They are open to the public, so bring your family and friends.

Once inside the ranch, there is a petting zoo, hay maze, sack racing, a gem mine, Western golf game, two horseshoe pits and a chance to meet little Pig Charlotte and her son Jimmy Dean, Miniature Pony Chocolate, Goats Shrek, Fiona and Baby Friday, miniature Donkey's Pete and Repeat and other critters.

For the little ones, Pony rides are free of charge with a request you tip the person who leads your pony.

You will enjoy a horse or mule drawn hay ride to and from the pumpkin patch.

You are welcome to bring sack lunches to enjoy on one of their picnic tables.
Entrance fee is 6$ per person; 6$ per pumpkin.

From the beginning of a horse and cattle ranch in the late 1950's, the Richardson Family is still working the land. Initially the spread consisted of 36,000 acres in the desert that is now North Scottsdale. In the spring of 1970 on Easter Sunday Old Mac Donald's Farm opened to the public. The Richardson Family realized a dream of an operation that allows the public the hands on approach to the ranch experience. In 1994 the 1300 acre Old MacDonald's Farm was updated to MacDonald's Ranch and services changed to offer an atmosphere where you can relax and take a step back in time to an overview of ranch life. In their third decade of operation MacDonald's Ranch is one of Scottsdale's oldest and experienced horseback riding stables in the Valley of the Sun.

MacDonald's Ranch is conveniently located on Scottsdale Rd just 5 miles north of the 101. (Southwest Corner of Jomax and Scottsdale roads.)

If you have questions visit www.macdonaldsranch.com,
e-mail macranch@macdonaldsranch.com or call 480-585-0239.