Falcs survive regulation woes to outfight Paradise Valley in double OT
By Pete Mohr | September 30, 2009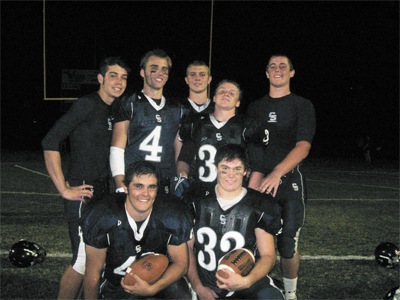 CSHS – Several weeks ago, Head Coach Chad DeGrenier observed to this writer, "If we're close at the end of three, we're gonna win the game in the 4th quarter." For the third game in four Friday nights (throw out the Sept. 17 "laugher" at Shadow Mountain), the Falcons' superior conditioning – physically and mentally – paid off, igniting them to a 29-22 thriller over Paradise Valley in double overtime.

The win vaulted 4-0 Cactus Shadows to the #3 ranking in latest A.I.A. Power Points behind #1 Apache Junction and #2 Saguaro, whom the 'Birds will challenge Oct. 9 and 16, respectively – both on the road.

Plagued by every setback imaginable during a deadlocked 22-22 regulation, including a "rabbit-eared" referee, the Falcons, inspired by a defiant defense, throttled the Trojans in both overtimes. On the first snap of 2nd OT, QB Dillon Classen capped another "triple threat" performance by perfect touching a swing pass "right" to sophomore running back Cam
("Mr. OT") Larson for the go-ahead (and winning) six. Hit at the one, Larson, not-to-be-denied, launched himself, ball extended, just inside the
right pylon. Touchdown! Bryce Redmond converted for the 29th point. Falcons needed a stop to win, 29-22.

Bring on the "Bradshaw Bad-Asses!" Led by DE Larson's 2nd down sack of P.V. quarterback Kevin Spain, they stuffed the Trojans, four-and-done! Strike up "Mighty Falcons!"

Hats off to veteran P.A. announcer Kevin Aholt, whose spontaneous cheerleading from the press box got CSHS students and fans raucously behind the 'Birds when they needed it most. I've never heard the West Stands crowd more "into it!"

Falcon scoring. 1st period: Zack Sexton, seven-yard run. Redmond converts, 7:00. 3rd period: Brady Dombrowski, four-yard pass from Classen. Redmond converts, 3:45. 4th period: Tommy Murphy, 12-yard pass from Classen. Classen sweeps right for the tying two-point conversion, 4:20. 2nd overtime, first play: Cam Larson, 10-yard swing-pass from Classen. Redmond converts.

Next up, at home, Friday, Oct. 2, the 0-4 (Flagstaff) Sinagua Mustangs, who've fallen on hard times in recent years. Falcons need this "breather" before hitting tough roads to "A.J." and Saguaro. Against the struggling Mustangs, "Crow" sez the Falcs are a "lock," the final score depending upon how much mercy is in "Coach D's" heart.
Lady Falcons win 'Classic'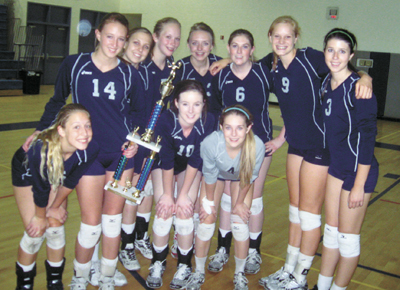 CSHS 2009 Homecoming Court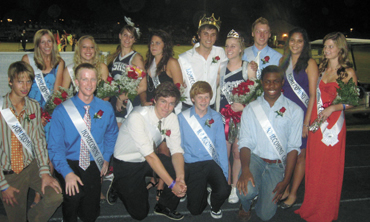 2009 HOMECOMING COURT
(Not in order of appearance)
King and Queen nominees (seniors):
Anna Torosian escorted by Nia Deeyor
Madeline Moore escorted by *A.J. Zygutis
Molly Shoulders escorted by Austin Welch
Kelsey Janke escorted by Shelby Moore
Maria Carranza escorted by Paul Welch
Representing the Class of 2011 (juniors):
Songee Barker escorted by Johan Beishline
Representing the Class of 2012 (sophomores):
Cory Gunter escorted by Sam McInerney
Representing the Class of 2013 (freshmen):
Kathryn Kaufman escorted by Alex Brettell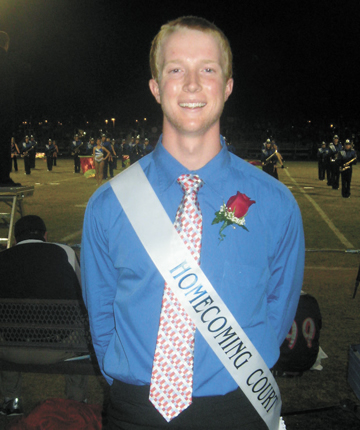 *A.J. Zygutis won the "Mr. Cactus Shadows" contest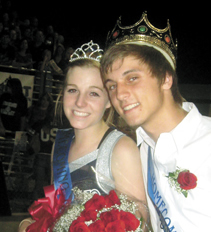 Madeline Moore and Austin Welch were crowned Queen and King.

Follow the Falcons
Football:
JV Thurs., Oct. 1 at Sinagua 6pm
VAR Fri., Oct. 2 Sinagua 7pm (H)
FR Oct. 7 at AJ 6pm
JV Thurs., Oct. 8 AJ 6pm (H)
VAR Fri., Oct. 9 at AJ 7pm
Volleyball:
ALL Thurs., Oct. 1 Queen Creek 4/5/6pm
ALL Tues., Oct. 6 at McClintock 4/5/6pm
ALL Thurs., Oct. 8 at AJ 4/5/6pm
VAR Fri.-Sat., Oct. 9-10 at Goldwater Tourney TBA
Cross Country:
ALL Fri., Oct. 2 at Twilight Invit. (Queen Creek) TBD
ALL Wed., Oct. 7 A.J., Saguaro, Seton 4pm (H)
ALL Sat., Oct. 10 at Doug Conley Invit. (Tempe Rolling Hills) TBD
Boys Golf:
VAR Thurs., Oct. 1 Coro., SDO, Saguaro 3:30pm (H)
VAR Tues., Oct. 6 at AJ w/JL Combs 3:30pm
Girls Golf:
VAR Mon., Oct. 5 Arcadia, Higley 3:30pm (H)
VAR Wed., Oct. 7 at Campo Verde w/Combs 3:30pm
Swim & Dive:
ALL Tues., Oct. 6 AJ 3:30pm (H)