Shadowbox Players open season with 'whodunit' spoof
By Stephanie Habib | September 30, 2009
7:30 p.m. Thurs., Oct. 15 through Sat., Oct. 17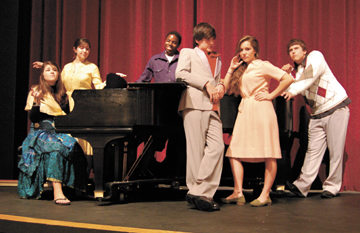 Autumn is approaching, and along with a break from sweltering temperatures comes the 2009-2010 Season debut of the Cactus Shadows Shadowbox Players at 7:30 p.m. on Thursday, Oct. 15, with performances through Saturday, Oct. 17. This time around, the theater troupe leads audiences through a stormy night in a New York mansion in John Bishop's "The Musical Comedy Murders of 1940."

The play follows in the footsteps of classic mystery films like Bob Hope's "The Cat and the Canary." Showgirls are being murdered and the police are on the trail of the killer, while a German homicidal maniac interferes with the mix. Throw in a comic and several cases of mistaken identity, and you have a delightful night of entertainment.

The laughably diverse cast of twelve includes seniors Jessica Dragone, Zack Hoffmann, Elizabeth Mernick, Cameron Rimmer, Spenser Robert and Kathleen Stilson. Juniors Emmanuel Aire, Austin Andres, and Rachel Clem, along with sophomores Jack Bennett, Kolten Ledesma, and Brianna Shelley round out the cast.

"The Musical Comedy Murders of 1940" opens at the Cactus Shadows Fine Arts Center, 33606 N. 60th Street, (half mile south of Carefree Highway), on Thursday, Oct. 15, with shows on Friday and Saturday, Oct. 16 and 17. Doors open at 7 p.m. for the 7:30 p.m. curtain. Tickets are available only at the door: $8 for adults and $5 for students with the presentation of a valid school ID.

For more information, please contact Linda Garvin, head of the CSHS Drama Department,
at 480-575-2464.