Don't miss the Monday, Oct. 5 voter registration deadline
September 9, 2009
Note: Cave Creek Town Hall will not be open Friday, Oct. 8, so the first day to vote early at Cave Creek Town Hall is Monday, Oct. 11.

Be certain your voice is heard. Vote in the Nov. 3 Election. Monday, Oct. 5 is the last day to register.

To cast a ballot on Propositions 400 and 401 regarding Walmart, you must reside within the boundaries of the Town of Cave Creek.

The Maricopa County Elections Department website (www.recorder.maricopa.gov/web/elections.aspx ) is a gold mine of information, but most of what you need to know follows.

Register by mail
The Arizona Voter Registration Form is available at Cave Creek Town Hall (or download here by clicking on the form above) in which case it must be printed and completed. Make a copy before mailing it if you wish to keep a copy for your records.

Mail the signed completed form to: Maricopa County Recorder, 111 S. 3rd Ave. Ste 102, Phoenix, AZ 85003-2294.

Register to vote or update your registration online
If you wish to register to vote online or you are a registered voter in the State of Arizona and you wish to update an existing registration, you may do so at www.servicearizona.com.
Arizona's three-strikes law, isn't really
By Linda Bentley | September 23, 2009
Komodo 3000 fireworks only railroads, farmers and ranchers can use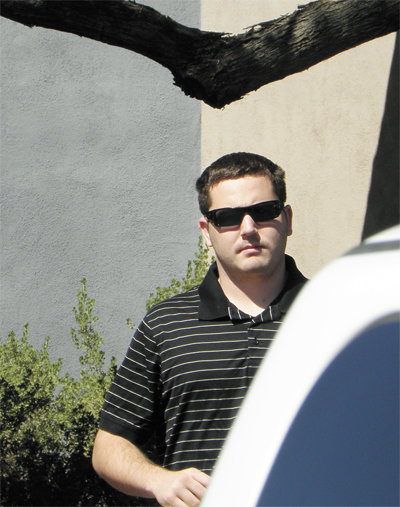 CAVE CREEK – In his 30 years of practicing law, Municipal Court Judge George Preston said this was the first time he's had a charge for possession of fireworks come before him.

Kyle Engels, 23, pled guilty on Friday to a passenger open container violation, a class 2 misdemeanor, and possession of fireworks, a class 3 misdemeanor.

Preston asked, "How did you get a hold of these?"

Engels said he bought them on his way home from California.

A Komodo 3000 is of the "fountain" variety made by Phantom Fireworks. It sizzles, whistles, lasts for over four minutes and costs $59.95.

Apparently, if one lives in states where fireworks are legal, Phantom Fireworks are not only available online but even at K-Mart and Sears.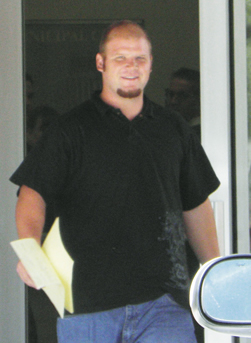 James Jobe, 25, appeared before Preston to plead guilty to charges of failure to provide ID and a seat belt violation.

Preston asked Jobe, "What happened, did you forget your wallet?"

"No," said Jobe, "I just couldn't find it."

It then became clear to Preston that Jobe was a passenger and the driver was pulled over for a DUI.

Jobe said the deputy had probable cause to ask him for his ID.

When Preston asked if he was on probation or parole, Jobe responded, "I wasn't on probation at the time of this incident."

Preston ordered Jobe to pay a fine of $250 plus $20 in court costs, for which he signed up to make time payments.

Apparently, the incident occurred on July 28, and it wasn't until Aug. 3 that Jobe received a suspended sentence and was placed on probation for 18 months by Maricopa County Superior Court Commissioner Keelan Bodow after pleading guilty to one amended count of possession of drug paraphernalia, a class six designated felony.

Jobe was discharged from probation on Jan. 28, 2009 after being sentenced under A.R.S. § 13-901.01, which requires the court to suspend the imposition or execution of sentence and place the person on probation if convicted for personal possession or use of a controlled substance or drug paraphernalia.

If a person is convicted a second time of personal possession or use of a controlled substance or drug paraphernalia, the court may include additional conditions of probation it deems necessary, including intensified drug treatment, community restitution, intensive probation, home arrest or any other action within the jurisdiction of the court.

In February 2007, Jobe pled guilty to an extreme DUI, a class 1 misdemeanor, unlawful flight from law enforcement vehicle, a class 5 felony, and possession or use of marijuana, a class 1 misdemeanor, and which the court noted was a second strike under the statute.
The court placed Jobe on probation for two years for each count to run concurrently.
According to Subsection H of the same statute, if a person is convicted a third time for possession of a controlled substance or drug paraphernalia, he is no longer eligible for probation and the law requires the person be sentenced to the Arizona Department of Corrections.

However, Subsection I makes the three-strikes mandate rather ambiguous by stating, "Subsection G and H … do not prohibit the defendant from being placed on probation … if the defendant otherwise qualifies for probation under that section."

Bodow stated in his order, "Based upon the information provided, the court finds probation is not mandatory pursuant to A.R.S. § 13-901.01(H). However, the court finds probation to be appropriate."

Beginning Oct. 1, 2009, Jobe was ordered to pay a $65 per month probation service fee and a fine of $1,380, payable $75 per month.

He was also ordered to complete 40 hours of approved community restitution at a minimum rate of six hours per month and must participate in any counseling as directed by the adult probation department.

Former Ti Amo, Baci and Meridian restaurateur, Reha Soylular was cited in May and pled guilty in July to two criminal counts of a dog (Rottweiler) at large.

On July 20, Soylular told the court he would pay his fine in full in two days. However, the court has not heard from him since.

On Aug. 24, the court issued a warrant for failure to pay, setting bond at $500.

Meanwhile, Soylular has fled Arizona with his restaurant equipment and furnishings and is currently living in Laguna Niguel, Calif.

Courtesy Photos:
Kyle Engles is pictured leaving Cave Creek Municipal Court on Friday after paying his fines for a passenger open container violation and for possession of fireworks.

James Jobe was ordered to pay $270 in fines to Cave Creek Municipal Court. However, he was given a suspended sentence and placed on probation, once again, by a Maricopa County Superior Court Commissioner for a drug paraphernalia charge.