Sexton's three touchdowns power 53-7 rout of Shadow Mtn.
By Pete Mohr | September 23, 2009
P.V. is Sept. 25 Homecoming foe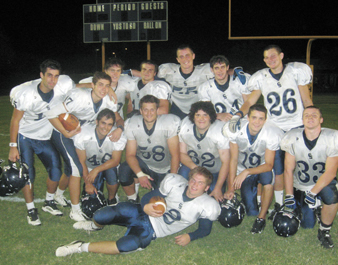 PHOENIX – After upset thrillers at Cienega (33-32, Sept. 4) and Greenway (28-21, double OT, Sept. 11), the Falcs have made me a believer! At Shadow Mountain, Sept. 17 the 'Birds kept rolling, scoring on their first two possessions, then flying away to rout young, mistakes-prone Shadow Mountain, 53-7.

Now, home at last, the 3-0 Falcons are ranked #6 in this week's A.I.A. Power Points Rankings, as they prepare to "Homecoming" host 2-1 Paradise Valley, Friday evening, Sept. 25, 7 p.m. kickoff. The Trojans were upset by Notre Dame, 31-12, last Friday at SCC. P.V.'s bigger loss may have been the high ankle sprain suffered by senior Jake Brown, who pairs with classmate Tyree Parker to form one of the most explosive running back tandems in Arizona high school football. Will Brown return Friday night? At this Monday night writing, no word out of P.V.

At Shadow, the 'Birds led 25-0 at the break; 39-0 after three; lost the shutout at 46-0; then turned loose running back Austin ("The Stin," so nicknamed by his teammates) Stephens on a determined 27-yard sweep to boost the Falcs to 52. Bryce Redmond converted to put the Matadors out of their misery. For the night, Falcons tallied seven touchdowns, six extra points, one field goal and a safety.

Postgame, Coach D., exhorting his unbeaten troops: "What are we now?!" "Three-and-0!" they roared back. His summation critique to Sonoran News? "Well … um … we have to get better before next week." Thanks, Coach.

What about P.V.? "We've got to stop their Big Three: Brown, Parker and quarterback Kevin Spain, who's a threat to pass or run." (For you geneologists out there, Spain and former Falcon standout Bo Campbell (CSHS '09) are second cousins.) Assistant Coach Chris Frederiksen, who scouted the Trojans last Friday night: "They have eight or nine starters, including Parker, who play both ways. In this heat, we need to grind 'em down."

Scoring at Shadow: 1st period, 4:52: Tommy Murphy, 14-yard pass from Dillon Classen, Bryce Redmond P.A.T; 7:01: Joree Schneider, 9-yard pass from Classen, Redmond P.A.T.; 2nd period, 4:51: safety (Jake Krumm); 7:57, 14-yard screen from Classen to Zack Sexton, kick wide left; time expired: Redmond, 39-yard field goal; 3rd period, 5:09: Sexton, 21-yard sweep, Redmond P.A.T.; 2:03: Sexton, two-yard plunge, Redmond P.A.T.; 4th period, 5:29: Brady Dombrowski, four-yard pass from Paul Walsh, Redmond P.A.T.; 9:10: Austin Stephens, 27-yard sweep, Redmond converts.

"Stick around high school sports long enough and you'll see things you've never seen before." Sound familiar?

First half's seconds from over, Falcons in possession; but a half can't end on a defensive penalty, right? So the hapless Matadors commit two consecutive 15-yard personal fouls to put "The Cuke" (Redmond) in range for his first field goal of the season, a 39-yard perfecto – with time expired!

Falcons can't expect that kind of charity from P.V.; but they're not about to disappoint their Homecoming crowd.

"Crow" likes the 'Birds to keep on keepin' on, say, 38-21. See you Friday at Falcon Stadium. This team has earned a big "Welcome home!"

Photo By Pete Mohr
"DEE-FENCE!" got a "game ball" from Head Coach Chad DeGrenier. Late 3rd quarter, Matadors had recorded only 25 yards total offense. Reclining in the foreground, 1890s style, is "D" spokesman Jake Krum, who was credited with a safety in the 2nd period to put the Falcons up, 16-0.

Lady Falcons host "Classic"

By Pete Mohr | September 23, 2009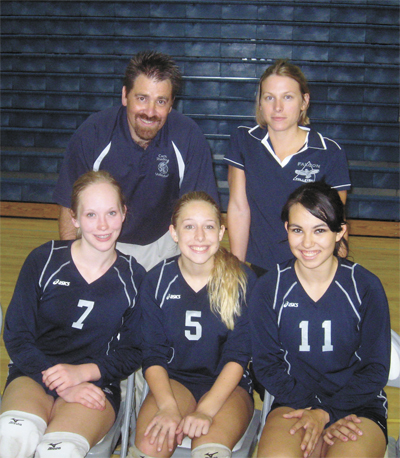 Head Coach Tom Gardner (back, l.) is a patient man. He's coached volleyball long enough to know that when you start a season with only three seniors (front, l-r, setter Sarah Grothe, Co-Captain Kelsey Janke (outside hitter and defensive specialist) and opposite Michaela Shuler), it's going to take time for his team to gel as a unit. Contrast that level of inexperience with 4A-I defending State champion Sunnyslope, which returned all starters from their 41-0 title squad.

"We're getting there," Coach Gardner evaluated, as the Lady Falcons (10-6) practiced for an important Region game at Saguaro, Sept. 24, before hosting the all-day "Falcon Classic," Saturday, Sept. 26.

Co-Captain Janke and her defensive specialist comrade, junior Jordan Smith, have to be seen to be believed. What incredible "never give up" hustle! Co-Captain and junior Summer Anderson provides primary "killing" power at outside hitter. Junior Shan England, soph Kalyn Peters and freshman Carly Lenzen are "growing" into a stronger middle block. That's new Assistant Coach Amanda Ware (back, r.). She's a spirited, good-humored lady!

After the "Classic," Lady Falcons are at home against Moon Valley (Sept. 29) and Queen Creek (Oct. 1).