Classen versatility sparks Falcs to 28-21 upset in double OT
By Pete Mohr | September 16, 2009
Victory avenges '01-'04 Greenway drubbings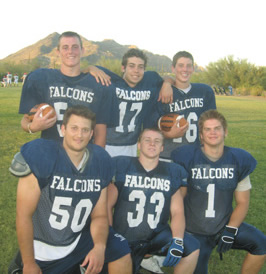 "DEMONIZED" NO LONGER! (back, l-r) Quad-Captain Tyler Souva ("D" game ball), Quad-Captain Tommy Murphy (INT ices win – again!), Quad-Captain Paul Walsh ("O" game ball); (front, l-r) Alex Yazdi, Quad-Captain Zach Sexton, Jake Krum were resilient/opportunistic defenders at Greenway, Friday, Sept. 11.
Photo by Pete Mohr

PHOENIX – When this sportswriter was in high school, Dwight D. Eisenhower was president of the United States, and the Dillon Classens of the gridiron were called "triple threats": that is, they could run, pass and kick (punt or placekick). Dillon, an outstanding athlete, is probably among the last of the dying "triple threat" breed. He's a solid bet to play at the next level; but sadly, in this New Age of specialists, his versatility will be discouraged – if not denied altogether.

Accordingly, I would encourage football fan purists to come out to Falcon Field and watch this young man play in the Falcons' five regular season home games, starting with Homecoming on Sept. 25 against the high-powered Paradise Valley Trojans. Thank goodness speed backs Tyree Parker and Jake Brown are finally seniors! Would you believe their combined 545 yards rushing against Arcadia?

The Falcons will bus to Shadow Mountain on Thursday for a 7 p.m. kickoff versus the sure-to-be dangerously hungry Matadors, who've been waxed 24-9 (by Notre Dame) and 41-7 (by Queen Creek) in their first two outings. Watch out, 'Birds! Now to the double overtime thriller at Greenway.

With only 48 seconds left in the 1st half, Classen breaks clear in the end zone to catch, untouched, a perfect 15-yard strike from his quarterback compatriot, Paul Walsh. Fast forward to the 4th quarter … Greenway up, 14-7 … only 2:06 left … Falcons are fourth-and-seven from their own 44. From his bag of tricks, Head Coach and Offensive Coordinator Chad DeGrenier dials up a "Duck Ball" formation, which put four down linemen on the left side of center Kyle Ledesma, ably filling in for the injured (sprained knee) Alex Boat. With Demon defenders scrambling in semi-confusion, Classen takes the "shotgun" snap and sprints left to the Greenway 28. Only a desperation lunge knocked him off-balance to the turf.

Then he cranks up his arm and hits Brady Dombrowski on two sideline outs, the second producing Brady's toe-dance to stay in bounds at the two. On the next snap, Classen connects with a leaping Dombrowski in the deep right corner to get the Falcs to 13-14. Bryce Redmond's perfect P.A.T. almost bonks the scoreboard! Overtime City!

Falcons elect to defend. Greenway's talented quarterback Zander McKean calls his number twice and scores. Ryan Harper boots the point-after: Greenway 21 - Falcons, 14. On the Falcs' first snap, sophomore running back Cam Larson sweeps left, determinedly lowers his head into a Demon defender at the two – and was not to be touchdown denied! Redmond's kick sails high-and-good into the night: all even at 21-21.

Coach DeGrenier alertly calls for a shift to the south end zone to buy a little "catch our breath" time. His strategy works. Falcons go first. Classen fakes to Larson, then explodes into the end zone without a hand laid on him! Redmond splits the uprights to make it 28-21, Falcons.

"Dee-fence! Dee-fence!" exhorted Rika Cuff's cheerleaders and Theresa Chung's pom ladies, with the Fighting Falcons Marching Band drumming in. Jake Krum stops the 1st down run. Quad-Captain Tyler Souva, with an assist from Larson, sacks McKean back to the 14. Time out, Greenway. On 3rd down, McKean aims for his favorite target, 6' 3" Ryan Harper, at the left pylon … but Quad-Captain Tommy Murphy jumps in front of Harper to make his second consecutive game-clinching interception! Postgame, Murphy to Sonoran News: "He beat me in the 1st quarter. I knew that #15 was going to throw to him. This time, I was ready and was lucky enough to make the play."

Double overtime … 28-21 … at Greenway. Couldn't have been any sweeter – or a more important milestone for Falcon Football. Congratulations to Coach DeGrenier, his staff, and to 35 Falcons who never gave up on each other. "Coach D." to his troops in the north end zone: "I couldn't be prouder of you guys!" That said it all.

Against Shadow Mountain, how could "Crow" not like the 'Birds? Falcons, 34 - Matadors, 14. Be there to help root the Falcs home with three road wins in a row!
CSHS Baseball's Mike Baker is 'right where I want to be.'

By Pete Mohr | September 16, 2009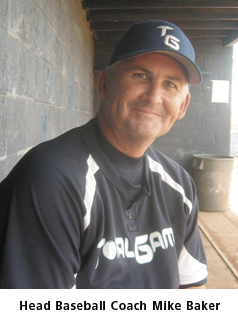 CSHS – "I'm right where I want to be," new CSHS Head Baseball Coach Mike Baker convincingly volunteered to Sonoran News after an intra-squad practice last Saturday morning. "These are good kids. I see a lot of potential in them. My job is to train 'em!"
Before writing further about Coach Baker, it's in order that I congratulate the Selection Committee that nominated him, subject to CCUSD Board formal approval: Principal Steve Bebee, Athletic Director Leonard Suarez, Assistant Principal Rick Swearingen, Athletic Department Secretary Bonnie Nystrom, Men's Club President Tim Collins and Head Softball Coach Danica Gianni (who has a baseball coach in residence, Notre Dame's Head Coach Gaetano "Guy" Gianni). Baker was chosen from 15 well-qualified applicants who were screened to three finalists.

Last spring, Baker coached the JV Baseball Falcons to an 11-7 season. This summer, his 18U Connie Mack squad, "Total Game," won the State Championship.

Creeker Mike Baker, a 47-year old native Californian, is, first, a family man. That's why he gave up a successful managing (eight years in the Netherlands, including the 1996 Olympics) and scouting career (1995-2006, New York Yankees, and 2007, New York Mets) to settle down from the travel grind of domestic and international scouting assignments. (Interestingly, in the 2001 World Series, he scouted Arizona Diamondback pitching.)

Baker and his wife, Nichelle, married in 1998, parent two children, Griffin, 7, a 2nd grader at Lone Mountain, and Taylor Rae, 4, a kindergartner. Away from Falcon Field, Coach Baker markets specialized orthopedic devices through his company, Lionheart Medical Devices.
Close behind, Mike Baker's a baseball man. In last Saturday's scrimmage, his hands-on knowledge of the game was easy to see as he encouragingly instructed his players. "I'm already watching, closely, every one of them. I want them to take more personal responsibility by deciding where they want to play, then competing for that position. Effort and how well we play as a team, that's what will determine the number of our wins and losses. Effort. You heard me tell 'em, 'As a baseball player, you either get better or worse. There's no room for anything in between.'"

I thank Coach Baker for his generous time. For Falcon Baseball, I say he's already a "W!"