Sept. 25 'Wind & Fire' Native American Flute Concert kicks off Cave Creek Museum's new season
September 16, 2009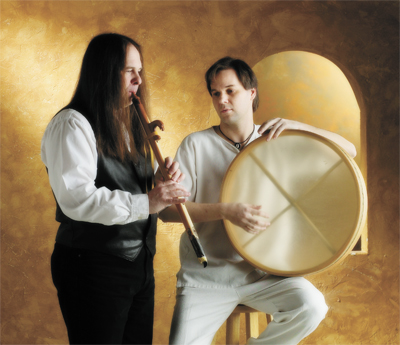 Courtesy Photo/Patrick Arnold

CAVE CREEK – Cave Creek Museum is kicking off its new season with a special Native American flute concert, "Wind & Fire," from 6:30 – 9:30 p.m. on Friday, Sept. 25 at the Museum, 6140 Skyline Drive, in Cave Creek.

The concert features nationally-acclaimed flutist Mark Holland and world percussionist N. Scott Robinson, and it is the first in a series of "40th Anniversary" events planned to celebrate the Museum's incorporation four decades ago. Tickets cost: $20 per person; $15 for seniors (age 60+); and $10 for children under 12. Museum members receive a $2 discount. Seating is limited.

"We're thrilled to begin our season with such talented performers," said Evelyn Johnson, executive director of Cave Creek Museum. "Mark is known for his unique, soulful style of playing from the heart, and Scott is equally admired for his fiery improvisations and colorful, rhythmic music."

Cave Creek Museum board member Steve Jurewicz is helping to coordinate the event.
"This is a rare opportunity to see Mark and Scott in concert," Jurewicz said. "They are touring the Southwest to promote their new CD, Wind & Fire, which has received rave reviews."

"Mark Holland plays evocative melodies and improvisations on 20 different types of flutes, including single and dual chamber Native American and Anasazi flutes. Anasazi flutes have been played locally as long as 1,300 years ago when the Hohokam civilization thrived in the Desert Foothills," he said.

Holland also plays other flutes from around the world such as the Indian bansuri, the Chinese dizi and the Andean quena. Robinson plays a diverse variety of 30 different drums including frame drums, Irish, Indian, African and many other drums from throughout the world.

Cave Creek Museum officially re-opens for the season on Thursday, Oct. 1. The Museum features an extensive collection of prehistoric and historic artifacts that describe the lives of Native Americans, miners, ranchers and pioneers. Museum hours are Wed., Thurs., Sat. and Sun. from 1 – 4:30 p.m., and Fri. from 10 a.m. to 4:30 p.m. Entrance fees are $3 for adults, and $2 for seniors and students over age 12. Group tours: $2 per person.

To reserve tickets for the "Wind & Fire" concert call 480-488-2764 or visit www.cavecreekmuseum.org.
Harold's set to celebrate 74th anniversary
September 16, 2009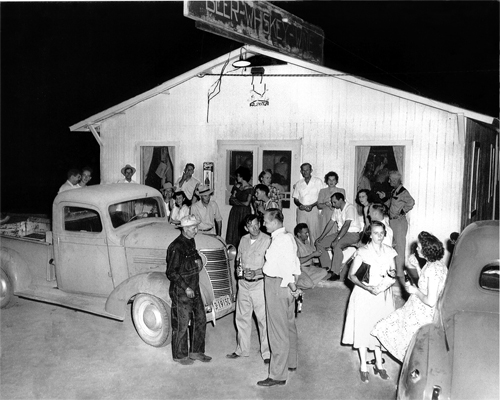 Harold's Cave Creek Corral is throwing itself a 74th Anniversary Party on Saturday, Sept. 26. Admission is $5 per adult; children 6 and under are free. The restaurant is located at 6895 E. Cave Creek Rd. in Cave Creek. For more information call Harold's Cave Creek Corral at 480-488-1906 or visit www.haroldscorral.com.
Courtesy photo/Cave Creek Museum
"Late Nite Catechism" is back, funnier than ever
September 16, 2009
Patti Hannon stars as Sister in Late Nite Catechism
Courtesy photo/Jeff Noble

SCOTTSDALE – The hit "Late Nite Catechism" comedies will return for a new season of laughs to Scottsdale Center for the Performing Arts. The newest sequel to the long-running series, "Late Nite Catechism III: 'Til Death Do Us Part," will be performed on Saturdays at 8 p.m., while the original "Late Nite Catechism" will run on Friday evenings at 8 p.m. starting Sept. 18.

Single tickets are available for $38 from the Scottsdale Center for the Performing Arts' Web site at www.scottsdaleperformingarts.org or the box office at 480-994-ARTS (2787). All "Late Nite" performances will take place in the Center's intimate Stage 2 Theater.

Spontaneous, witty and fun, "Late Nite Catechism" is an interactive show starring AriZoni Award-winning actress Patti Hannon as tart-tongued Sister. Ruling her classroom with an iron fist, she teaches her students – who happen to be the audience – everything she knows about sins and saints while dolling out rewards and reprimands with lightning speed.
In "Late Nite Catechism III: 'Til Death Do Us Part," Sister offers up even more, including the latest doctrine fresh off the Web, some hilarious lessons on love and marriage and her own outrageous version of "The Newlywed Game." Each "Late Nite" performance is unique and will appeal to people of all ages and faiths.

Scottsdale Center for the Performing Arts is located at 7380 E. Second St. in downtown Scottsdale, AZ 85251. Box Office: 480-994-ARTS (2787) ext. 2. Web: www.scottsdaleperformingarts.org.
E-mail: info@sccarts.org.