Tom Scala formally resigns as CSHS Head Baseball Coach
By Pete Mohr | August 26
, 2009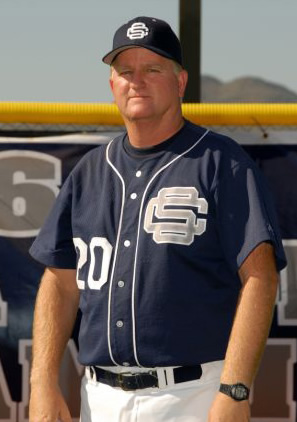 Courtesy Photo: Tom Scala


CSHS – I first met and interviewed Tom Scala in July 2002 shortly after (then) Athletic Director Dale Nicol had selected him to be head varsity baseball coach, succeeding Greg Virga whose health had forced his departure from The Valley after only one season. In our interview, Coach Scala, who had coached varsity baseball successfully at Shadow Mount≠ain, volunteered, "For me, coaching baseball at Cactus Shadows is a dream come true." With submission of his formal letter of resignation, dated August 19, 2009, to CSHS Principal Steve Bebee, Tom Scala voluntarily ended his dream.

Cactus Shadows Athletic Director Leonard Suarez has advised Sonoran News that a new head baseball coach will likely be recommended to Principal Bebee by a search committee within the next ten days.

Why has Coach Scala resigned? The following background before quoting his answer: In each of his seven consecutive seasons as head coach, 2003-2009, Coach Scala's Baseball Falcons qualified for State, winning the 4A-Division II Championship in 2006, and making Final Four (semifinals) appearances in 2005 and 2007; however, nearing the end of the winning 2009 season, in which the 'Birds had dethroned Chaparral as Desert Sky Region champions, an anonymous "attack" letter from a disgruntled baseball parent was directed not to Coach Scala; not to (then) Athletic Director Bill Dolezal or (then) Acting Principal Dr. Donna Lewis; but to the Arizona High School Baseball Coaches Association.

The letter was brought to Coach Scala's attention from perhaps the most unlikely source, Coach Jerry Dawson, longtime mentor of the arch-rival Firebirds. Coach Dawson was outraged by the anonymity of parent criticism of his coaching colleague. Put me down close behind. I'll refrain from using the "barnyard" epithet that fits such cowardice.

Coach Scala recently to Sonoran News: "From the accusations in this parent's letter, it was clear that the person who wrote it was not going to let up, which would have seriously disrupted the 2010 season. Over this summer, after thoughtful discussions with my wife, Tracie, I decided that my resignation would be in the best interests of Cactus Shadows baseball." Scala will continue in his position as a physical education instructor at DAMS, and plans to work toward obtaining his principal's certification.

Tom Scala loves baseball: "I'm going to take a break from coaching for awhile and then see what opportunities might develop. I want to thank my coaches, my players, their parents and all Falcon fans whose support helped make possible seven seasons I'll never forget. Whoever the new coach may be, I wish him – and Falcon Baseball – all the best."

And the same to you, Coach Tom. Here's hoping that the unselfishness of your resignation will deliver a long overdue message to parents of Falcon athletes. Simply, "Let your kids play and their coaches coach!" I offer that the kids and their coaches, all of whom make a significant commitment of time and effort, deserve that consideration – and respect.
Lady Falcons launch their 2009 Volleyball season on the road
By Pete Mohr | August 26, 2009
Like CSHS Football, the 4A-I schedule makers gave Head Coach Tom Gardner's Lady Falcons an early mountain to climb. Volleyball launches their 2009 season on the road at Shadow Mountain (Sept. 1), then take on perennial powers Cactus at home (Sept. 2) and Sunnyslope away (Sept. 3). Whew! Varsity start times are at 6 p.m. Come root the LadyBirds off to a good start!

"O" line's got to protect!
By Pete Mohr | August 26, 2009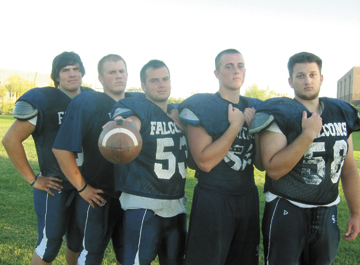 Talented starter Dillon Classen and solid back-up Paul Walsh give the '09 Falcons more-than-promising depth at quarterback, complemented by a speedy five-player receiving corps; but passing game success must start with protection provided by the Birds' offensive line. Getting their first "live" test in Thursday's 6 p.m. scrimmage against the visiting Coronado Dons

will be probable starters (l-r) sophomore Saul (pronounced "Sah-ool") Monteon, seniors Alex Boat, Kyle Ledesma, Tyler Souva and junior Alex Yazdi. First (and last) chance to see the Falcs in action until they return Friday evening, Sept. 25, for Homecoming against Paradise Valley.